If you're holding a yard or garage sale to get rid of some things you don't need anymore, it might take a little more thought and planning than you think at first. Let's look at a few of our favorite tips on how to prepare for a yard sale by deciding what you're going to sell, pricing items appropriately, picking the right day/time for your event, and more. We hope these tips help make your sale a success!
1. Decide What to Sell
You can't have a yard or garage sale without anything to sell. However, choosing what to sell can be the reason someone decides to browse (or not browse) through your items. Just because you need to get rid of something doesn't necessarily mean you should sell it at your yard sale. Make sure you're only selling things that are in good condition or have a demand, such as anything rare or antique.
2. Pick the Best Day and Time
The right day and time for your yard sale can make a huge difference in how many people come through. Typically, the best days and times to hold a yard or garage sale are Friday, Saturday, and Sunday mornings in the spring or summer when the weather is nice. If you don't have a covered area for your items, it's important to pick a day or weekend when it's not supposed to rain. Additionally, if it's too hot in the summer, more people will likely venture out in the morning before the temperature rises.
Some cities and/or states have local regulations about when you can hold a yard or garage sale. Check your local government ordinances for specific yard sale guidelines.
3. Price Items Appropriately
You want to have a yard or garage sale that is profitable, but you also don't want people walking away because something costs too much. If this happens, you'll be left with a slow sale day and unsold items. Most people come to yard sales under the assumption that they'll leave with a few new treasures for a bargain. One of the easiest ways to price items you're unsure about is to look them up online and see how much they are listed for on eBay, Craigslist, OfferUp, or Facebook Marketplace. For clothing items, it might be easiest to price by category, such as "Blouses: $5 each." If you notice people leaving once they see your price tags, consider lowering your prices.
4. Arrange Items Efficiently
Once you decide what to sell, you'll also have to decide how to arrange them in your yard or garage. Organizing by category can greatly help the general flow of your yard sale, and putting some of your most exciting items near the front might help draw people in from the road or sidewalk. Try to make it easier for potential buyers to browse through your items by making aisles wide enough for multiple people to walk through, and make sure price tags and signs are facing outwards so it's easier for people to find the cost of items. You may also find it helpful to use a cardboard box or other container to group smaller items together in a rummage bin.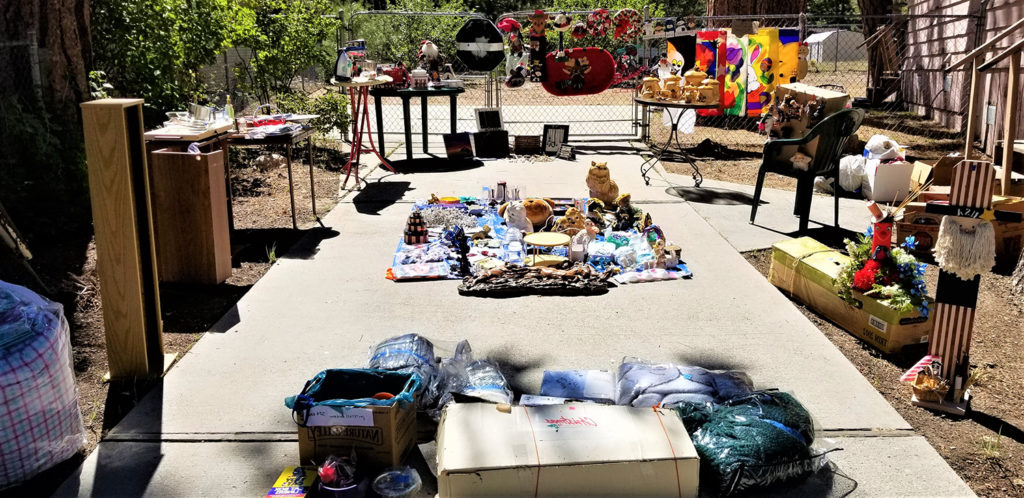 5. Make Easy-to-Read Signs
Making signs that are easy to read from the road are one of the biggest ways to draw traffic to your yard or garage sale. Use a dark pen, light poster board, and big block letters to draw attention to your sign. Make sure to include an arrow or address so people know where to go! Putting up multiple signs on roads and sidewalks around your home will draw in potential customers from all directions.
6. Prepare to Take Money
A lot of people won't have the exact dollar amount on hand when they stop by your sale, so it's important to have cash on hand before you open so you can give the proper change. Use a money bag to keep cash and checks organized in one spot. You also might want to keep a calculator nearby to do quick math if someone buys multiple items. If you want to be paid through an app such as Venmo, PayPal, or CashApp, consider listing your username or QR code on a sign so people can easily pay through their smartphones.
7. Have Water and Snacks On Hand
Not only is it a good idea to have water and snacks on hand for yourself and your family, but you might also be able to make a quick buck by selling bottled water, popsicles, and packaged snacks to hungry people who have been visiting yard sales all day. Stay hydrated out there!
8. Have Fun!
Holding a yard or garage sale can be a fun weekend activity for the whole family. If you have kids, encourage them to find a few things they can sell in their own section of your yard sale or let them help you at the register. No matter how much success you have with your sale, there are often still items left over. Instead of tossing them out, consider donating them to your local thrift store or clothing drive as a family. And at the end of the day—have fun!