Get ready for an action-packed weekend of excitement and entertainment in Salem! From thrilling Halloween celebrations to family-friendly gatherings and unique shopping experiences, this weekend has it all. Salem is buzzing with events that promise unforgettable moments and cherished memories. So, grab your calendar, invite your friends and family, and dive into a weekend filled with fun and adventure!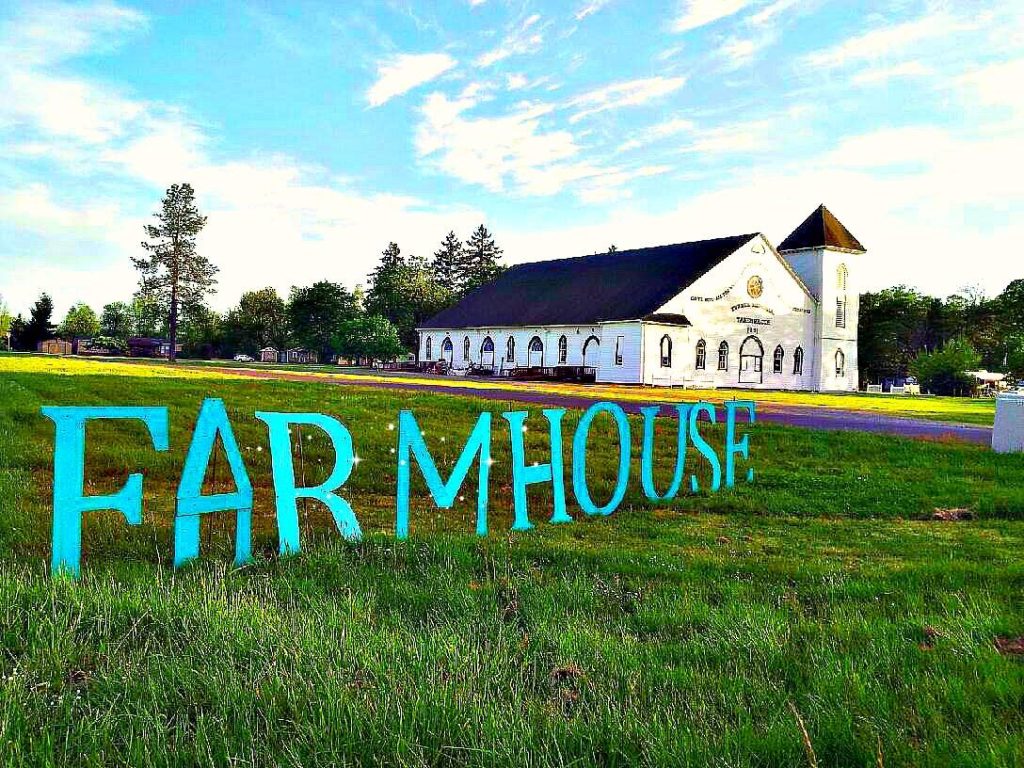 The Farmhouse Show: Vintage and Antique Extravaganza
Get ready for an unforgettable shopping experience at The Farmhouse Show's Vintage and Antique Extravaganza! Here are the details:
Date: October 26-28
Time: Friday 10/27/2023 10-6pm, Saturday 10/28/2023 10-4pm
Location: 5605 Jubilee Dr SE, Turner, OR 97392-8916, United States
This event brings together some of the finest vintage, bespoke, handmade, and antique dealers in the Pacific Northwest. Whether you're hunting for unique treasures or looking for a fun day out with friends, this extravaganza has it all. Mark your calendars and prepare for an exciting weekend of shopping, delicious food, and endless fun.
For more information and updates, visit thefarmhouseshow.com.
Halloween Events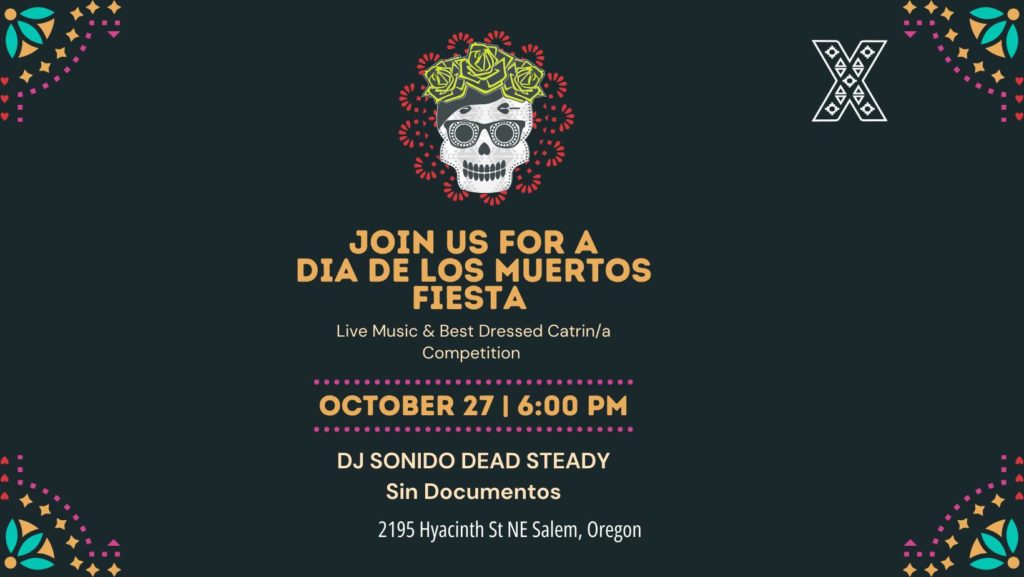 Dia De Los Muertos Fiesta
Get ready for a vibrant celebration at the first-ever Día de Los Muertos Fiesta, presented by Event by Xicha Brewing North! Attendees can look forward to an exciting evening on Friday, October 27th, at the North Salem location. The event kicks off at 6 pm with DJ SONIDO DEAD STEADY, followed by a captivating live rock en español performance by Sin Documentos at 7 pm. Plus, there's a "Best Dressed" Catrin/Catrina Competition you won't want to miss. It promises to be an unforgettable fiesta!
Date: October 27, 2023
Time: 6pm
Location: Xicha Brewing North Salem
Cost: Free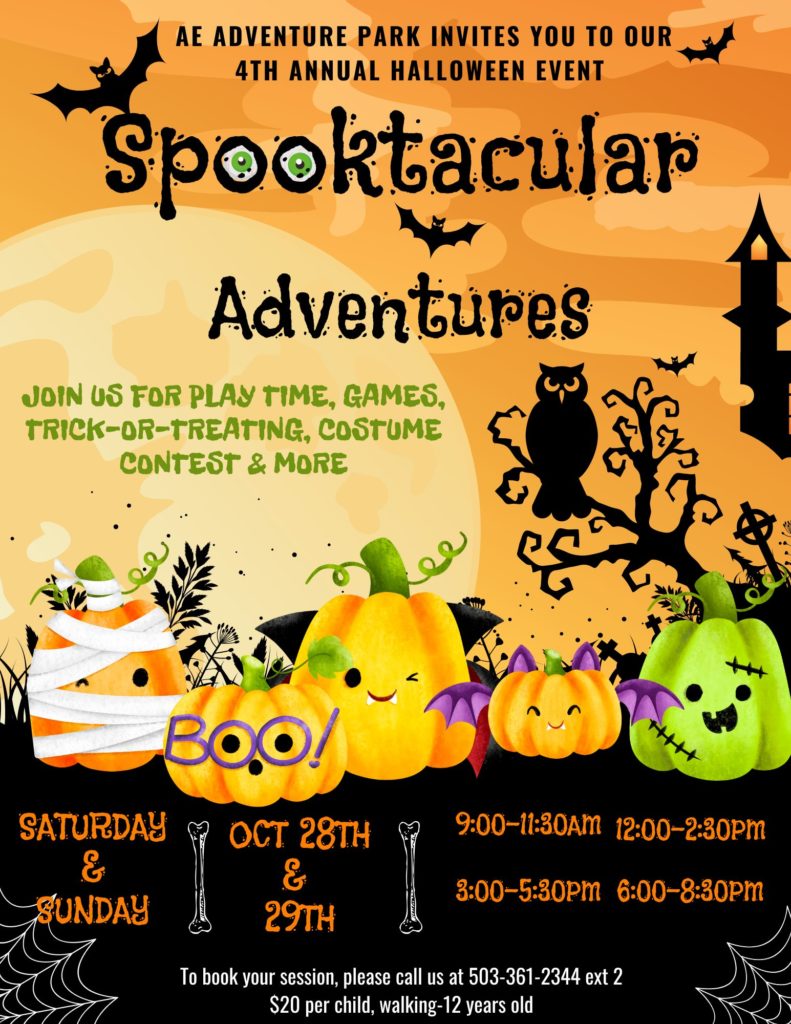 Spooktacular Adventures
Get ready for the 4th annual Halloween extravaganza, "Spooktacular Adventures," brought to you by The Athletic Edge Adventure Park! Join in the fun with playtime, games, photo opportunities, and more. This event is always a blast, and you won't want to miss it! Secure your spot today by reaching out to them at 503-362-2344 ext 2 or stopping by in person. Please note that each child must have a Lifetime Membership (ONE TIME fee of $5), and payment is due at the time of reservation. Get ready for an adventure-packed Halloween celebration!
Date: October 28-29, 2023
Time: October 28 9am – October 29 8:30pm
Location: The Athletic Edge Adventure Park
Cost: $20 per child, plus lifetime membership of $5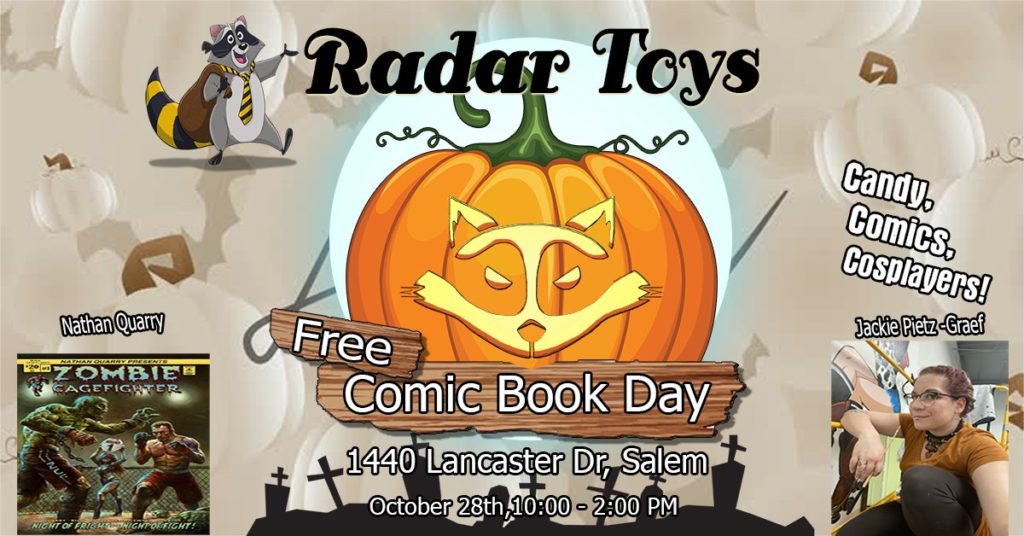 Free Comic Book Day
Join in on the Free Comic Book Day festivities at Radar Toys in Salem on October 28th! This exciting event, hosted by Radar Toys, promises free comics, candy, cosplayers, and special guest artists Nathan Quarry and Jackie Pietz-Graef. Dressing up? You might even get a chance to win a gift card in the raffle! The fun begins at 10 am and continues until 2 pm. Don't miss out on this fantastic celebration!
Date: October 28th, 2023
Time: 10:00 AM – 2:00 PM
Location: Radar Toys, 1440 Lancaster Dr NE, Salem, OR 97301-1930
Cost: Free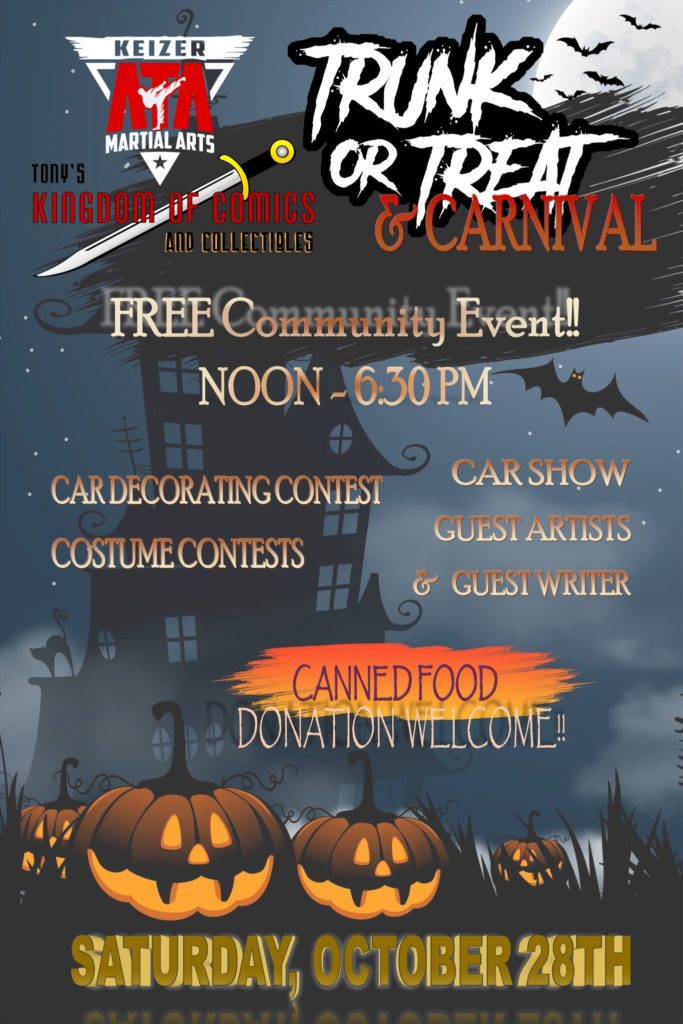 Trunk or Treat & Carnival
Join Keizer's Best Trunk or Treat, a FREE family-friendly Halloween event! Enjoy awesome costume contests, over 500 pounds of candy, creatively decorated cars, and a kid-friendly haunted house that delivers more fun than fright. Prizes await the best-dressed little ghouls and goblins. Parent volunteers go all out with imaginative car decorations, and the haunted house offers thrills without overwhelming the kids. Don't miss Keizer's most popular Trunk or Treat.
Date: October 31, 2023
Time: 6:00 PM – 8:00 PM
Location: Keizer's Martial Arts, Keizer, OR
Cost: FREE
Learn more and reserve your spot here.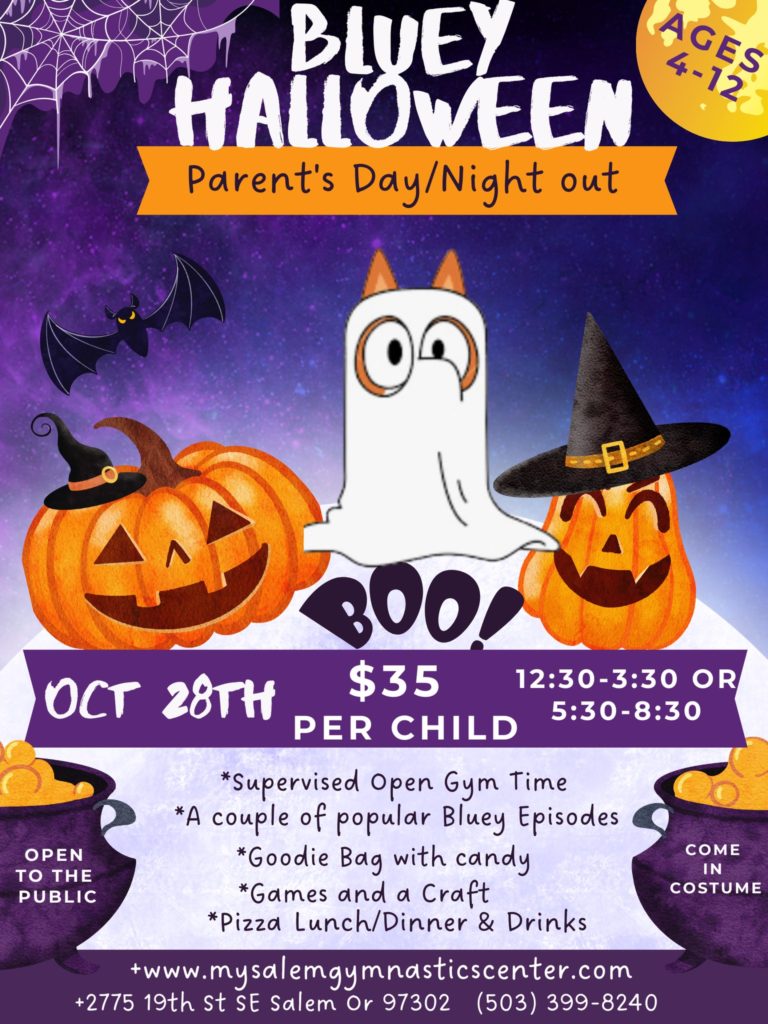 Bluey's Halloween Camp and Parent's Day Out
Salem Gymnastics Center presents Bluey's Halloween Camp and Parent's Day Out, offering three hours of non-stop fun! Activities include a pizza lunch, supervised open gym time with a ninja rig and zip line, games, a themed craft, a goodie bag filled with candy, and screenings of beloved Bluey episodes. This event is priced at $35 per child.
Date: October 28, 2023
Time: 9:00 AM – 12:00 PM
Location: Salem Gymnastics Center, Salem, OR
Cost: $35 per child
Learn more and reserve your spot here.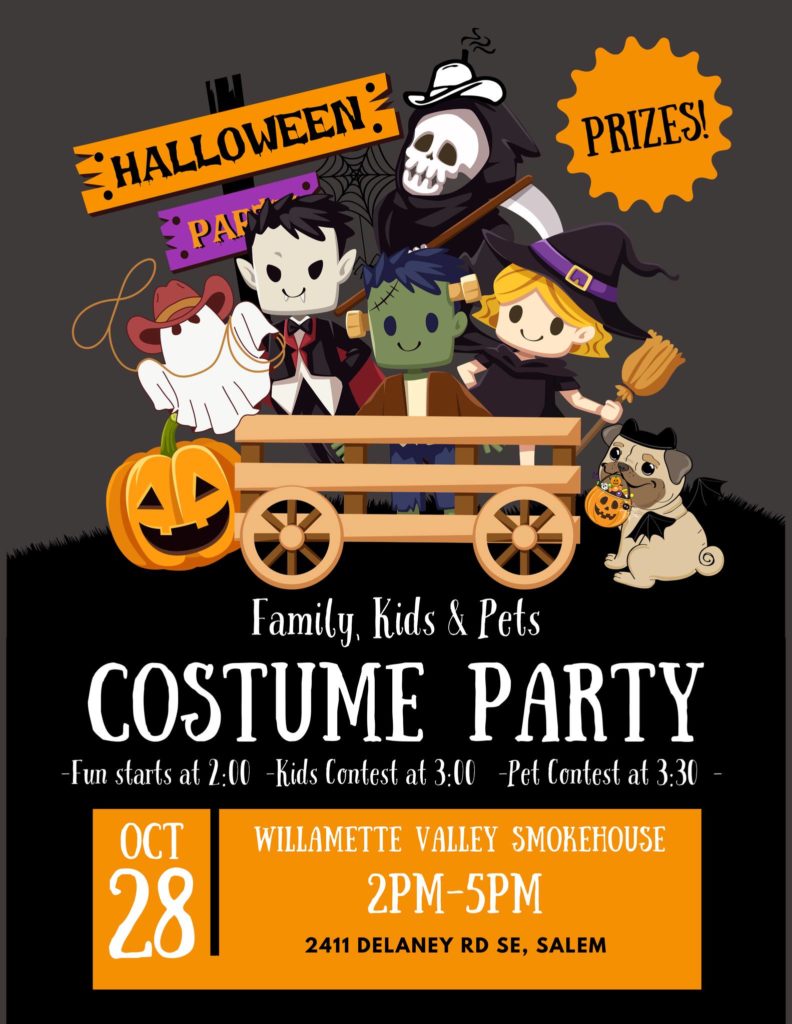 Join Willamette Valley Smokehouse on Saturday, October 28th, from 2-5 PM for a Halloween celebration rain or shine. Enjoy games, activities with prizes, and costume contests for Families, Kids, and Pets—with WVSH Gift Cards up for grabs. Admission is FREE, so no need for tickets or money to enjoy the fun. Satisfy your taste buds with delicious BBQ and cold drinks, including local brews and wine. Costume contest sign-ups are from 2-2:30 PM, with Kids' contest first, followed by Pets and Family contests. Keep pets safe on leashes. See you on the 28th!
Date: October 28, 2023
Time: 2:00 PM – 5:00 PM
Location: Willamette Valley Smokehouse
Cost: Admission is FREE
Learn more and reserve: Willamette Valley Smokehouse Facebook Page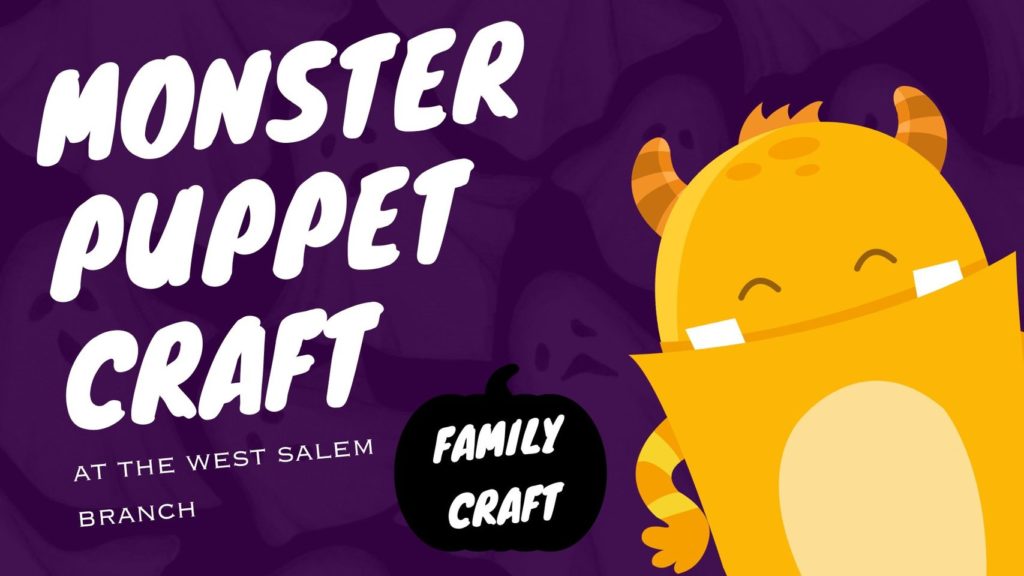 Family Craft Time at West Salem Branch
Get creative at the West Salem branch of Salem Public Library. Families are invited to a monthly drop-in craft event. They provide all the supplies; you just bring your imagination!
Date: October 28
Time: 2:30-3:30pm
Location: West Salem Branch, Salem Public Library
Cost: Free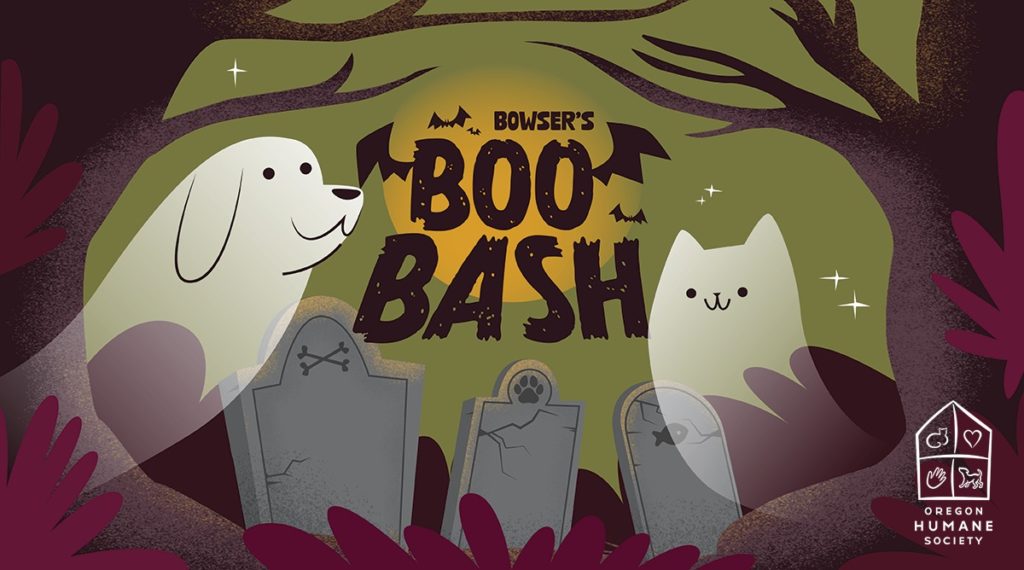 Bowser's Boo Bash – A Spook-tacular Evening for Shelter Pets
Get ready for a spook-tacular evening in support of shelter pets in need at Bowser's Boo Bash, hosted by the Oregon Humane Society Salem Campus. Here's what you can look forward to:
5:30 p.m. Cocktail Hour: Mingle with merry monsters, bid on a bounty of boo-tiful items and packages in live and silent auctions, and even summon your pet's inner thoughts from afar through the Boo Bash Pet Communicator.
7 p.m. Dinner and Program: Enjoy a delightful three-course dinner by Wild Pear Catering while you hear heartwarming stories about and support OHS' lifesaving work, helping pets and the people who love them.
Cuddles to Follow: Revel with spirits of all kinds while you indulge in devilishly good desserts and enjoy snuggles from adorable baby animals. Costumes are encouraged, so bring your Halloween spirit!
Date: October 28, 2023
Time: 5:30 p.m. – 9:00 p.m.
Location: Willamette Heritage Center
Cost: Visit Oregon Humane Society's website for ticket details.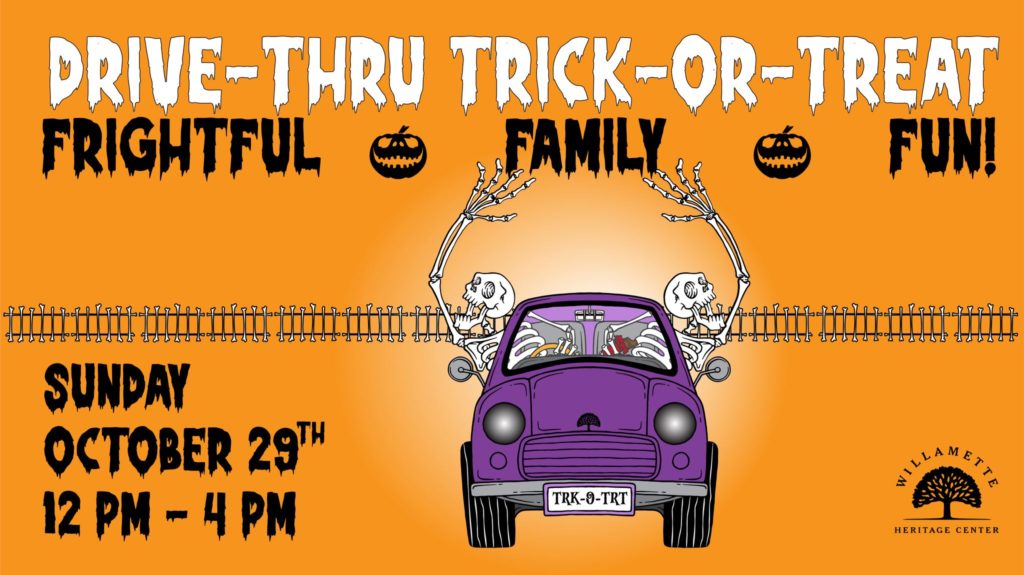 4th Annual Drive-Thru Trick-or-Treat at Willamette Heritage Center
Get ready for a spook-tacular event at the Willamette Heritage Center's 4th Annual Drive-Thru Trick-or-Treat! Here are the details:
Don your most creative costumes and join in the fun. This family-friendly event promises a delightful afternoon of tricks and treats for all. Best of all, it's a free event! Mark your calendar and get ready for a day of Halloween excitement.
Date: Sunday, October 29, 2023
Time: 12:00 p.m. – 4:00 p.m.
Location: Willamette Heritage Center
Duration: 4 hours
As we look forward to another weekend filled with fantastic events, remember that Salem always has something special in store for you. Whether you're exploring local culture, savoring delicious food, or indulging in retail therapy, the Salem area knows how to keep the excitement alive. Until next time, keep your spirits high and your calendar full, because Salem's vibrant community and diverse events are always ready to welcome you with open arms. Cheers to another fantastic weekend in Salem!