We recently had a chance to sit down with Becka Brisbin, one of the founders of "Punx in the Park," a free live concert and resource event to benefit Marion and Polk Counties at-risk youth, taking place at the Marion Square Skateboard Park in Salem on Saturday, September 17, 2022 from 12pm to 6pm. There will be a free clothing closet and free food for youth, as well as 20-40 youth focused, community resource partners, 5 local bands, youth speakers, and more.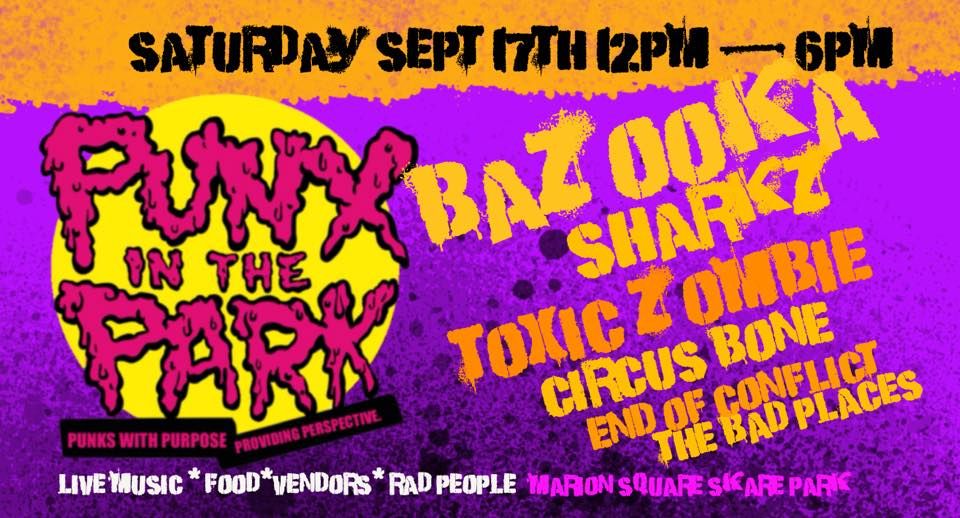 As someone who experienced homelessness as a youth, Becka explained that one of their goals is to be the adult to at-risk youth that she wished she would have had when she was young.
Becka said, "We want to mix adult "punks" with the youth and provide the opportunity to prove that a bad start in life doesn't necessarily mean a bad finish. Our aspiration is an overall message of hope and community."
She described the event as, "A cross between a resource fair and "Battle of the Bands".
The event itself is a gathering open to the public at Marion Square Skate Park in downtown Salem. It is a free event with donated food being served to youth attendees (food for purchase for adults), and the stage will not only showcase 5 local punk rock bands (regulated, of course), but also a variety of guest speakers, including members of the C.o.C. Youth Action Board, Backbone.
The event is unique in its structure and purpose.
"Attendees will have access to our "Elder Punx" for mentorship, guidance, or simply to hang out with someone that understands them. This event will kickstart the movement to prevent stories like ours." Becka explained. "Throughout the event, we will be collecting *donations of school supplies, clothing, and other essentials for at-risk youth to be donated to HOME Youth Services. This will provide much needed resources for youth that either do not have someone to provide these for them or do not know where/how to get them. We would like to provide a safer place for our youth to access the resources and to learn about what their community has to offer in a judgement free zone. In addition to this, and perhaps even more beneficial, will be the mentorship opportunities for the youth to get to know our "Elder Punx" of Marion/Polk who are survivors of adverse childhood experiences."
The event itself will focus on at-risk youth and aims to bridge the gap between privileged and underprivileged members of our community in an environment that invites you to come as you are.
"We encourage everyone seeking help, those willing to help, and those who are curious about our perspective on change to attend the event," Becka said. "We are embracing the diversity in our community to open a pathway for compatible conversations regarding our homeless crisis, which begins with our most at risk community-which is our youth."
*Donations: HOME Youth Services will receive these donations to help our local youth.
Items you can donate:
New/used clothes for ages 11-18
New/gently used outdoor living equipment
Canned/packaged food items
Phone chargers/cables
Hygiene products
Schools supplies
Note from the organizers: All donations are tax deductible. We appreciate your help! Thanks for helping us make an impact in our community.
**Punx In The Park is founded by Hailey Hulsey (Youth advocate, Lead Youth Navigator for HYS, cEMO of Punx with Purpose, and MAPS Community Award Winner 2022), Becka Brisbin (Owner of Becka Makes Buttons, LLC, ROCC Board Member, Emerging Leaders Ambassador for Salem Chamber, and VP of Punx with Purpose), and Shawn Cruz (Executive Operation manager of Meduri Farms, Local Artist, Owner of Cruz Holdings, LLC, and the BB of Punx in the Park). We are backed by volunteer supporters – The "Elder Punx", and the community that we serve.
See you in the park!
This event is sponsored by Recovery Outreach Community Center 501 (c)3 Non-Profit Organization. Federal EIN# 51-0653159