Located in Salem, Oregon, Bell Gardens Landscape has been transforming outdoor spaces with dedication, passion, and a commitment to quality. As a proud member of our local business community, we wanted to delve deeper into what makes this company stand out.
We recently had a chance to sit down with Omar Luna, the founder and president, and get to know more about his vision and what they do for Salem-area residential and commercial customers.
About Bell Gardens Landscape
Bell Gardens Landscape has been providing landscaping excellence in the Salem area since 2012. Their mission is simple yet profound: to bring the beauty of nature to homes and commercial properties in the Mid Willamette Valley. With a promise of integrity from start to finish, they guide their clients through every step of the landscaping journey.
Services That Shine
Bell Gardens Landscape offers a comprehensive range of services tailored to meet diverse needs:
Landscape Installation & Remodel: From initial on-site consultation to final construction, they handle both new constructions and landscape remodels for residential and commercial properties.
Hardscaping & Water Features: This includes retaining walls, pavers, patios, water features, decks, fences, firepits, and landscape lighting.
Irrigation Systems: They specialize in designing and installing irrigation systems, ensuring that landscapes remain lush and vibrant.
Commercial Landscape Maintenance: Catering to homeowners' associations, apartment complexes, office buildings, and industrial complexes, they ensure that commercial properties remain aesthetically pleasing.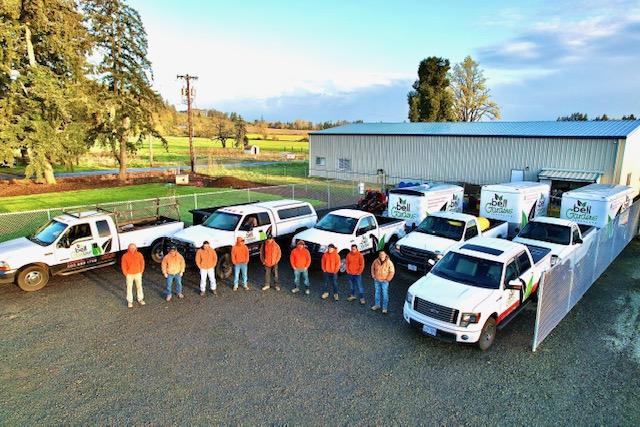 Client Testimonials
Bell Gardens Landscape's commitment to excellence is reflected in the glowing testimonials from their clients:
"We are thrilled with the wonderful work Omar and his team did for us, transforming our small backyard into a spacious and inviting outdoor living space. The attention to detail and top-notch customer service was impressive." – Chris M.
"This was the BEST experience we've ever had with a landscape professional. Omar was amazing, knowledgeable, and communicated every step of the way. We will DEFINITELY call Bell Gardens for all future landscaping needs!" – Nicole B.
Rapid Fire Q&A With Omar Luna
Q: what is your favorite part about living and working on the Salem area?
Being able to contribute and be a part of the change and growth in our community.
Q: what is your favorite local restaurant?
Q: what is your favorite local non profit and why?
Salem Harvest Connections between Farmers and back yard growers with volunteer pickers to harvest fruits and vegetables that would otherwise go to waste that are then donated to the community.
Q: What is one thing that you wish everyone in Salem knew about your business?
We are family owned and first generation entrepreneurs.
Engagement Beyond Landscaping
Some of the things they really enjoy is designing and installing pavers, creating walking paths, and beautifying spaces for longevity. They emphasize collaboration with clients, whether it's working with existing ideas or crafting a unique plan tailored to individual property needs.
Bell Gardens Landscape is not just a landscaping company; they are a testament to what dedication, passion, and commitment to quality can achieve. If you're in the Salem area and are looking to transform your outdoor space, Bell Gardens Landscape is a name you can trust.
---
Featured Business
Salem, Oregon 97317
(503) 689-1798