If you're not already using mouthwash as part of your regular dental hygiene routine, you could be missing out on a few oral health benefits in addition to regular brushing and flossing. Here are 5 benefits of using mouthwash regularly.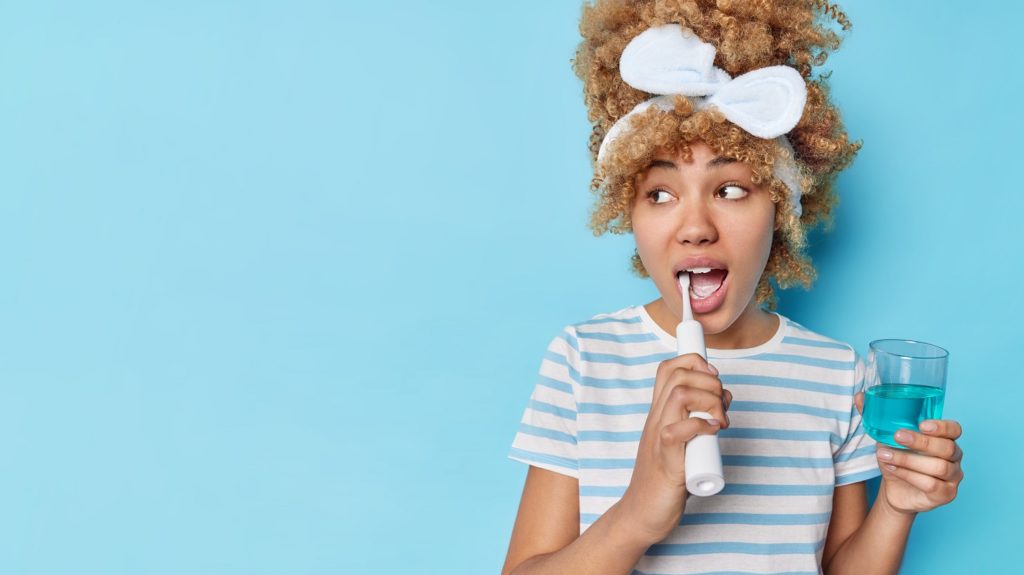 1. Cleans Hard-to-Reach Areas
Mouthwash can help to clean the areas of your mouth that are difficult to reach with a toothbrush and dental floss, like between your teeth and along your gum line. By swishing for 30-60 seconds after brushing and flossing, mouthwash can help loosen and dislodge left-behind pieces of food, plaque, and bacteria that would otherwise stay in your mouth and cause problems over time.
2. Reduces Plaque
Because mouthwash gets into those hard-to-reach spaces, it can help remove cavity-causing bacteria and plaque buildup. Additionally, mouthwashes with fluoride (like those often used after a dentist visit) can help strengthen tooth enamel and protect against plaque.
3. Fights Bad Breath
One common reason for using mouthwash is to freshen bad breath. Bad breath can be caused by many different reasons, but typically the culprit is leftover pieces of food or bacteria buildup on your teeth or tongue. Mouthwash's antibacterial ingredients target this bacteria to reduce bad breath and often offer a minty taste to have you feeling fresh all day and all night.
4. Reduces Inflammation and Risk of Gum Disease
If you are susceptible to inflamed gums, adding mouthwash to your dental care routine can help reduce inflammation and the risk of gum disease. Gum irritation and inflammation are typically caused by—you guessed it—plaque and bacteria buildup. Mouthwash can help reduce this pesky plaque and soothe your gums.
5. Brightens Teeth
Some mouthwashes use ingredients that remove surface stains and discoloration, giving you a brighter smile. However, brightening mouthwashes are often not as effective as other teeth-whitening methods and can lead to or increase tooth sensitivity.
Tips for Those with Sensitive Teeth and Gums
If you are someone who struggles with mouthwashes due to having sensitive teeth or gums, try using a brand that does not contain alcohol. Alcohol-free mouthwashes tend to be more gentle and cause less irritation.
Did you know about the additional benefits of mouthwash? Talk to your dentist if you have any questions about using mouthwash or if you would like their recommendation.