Winter driving can be hazardous when the weather conditions include ice, snow, or freezing rain. To prepare for winter driving conditions, it's important to take a few safety precautions with your vehicle. Let's go over seven of them: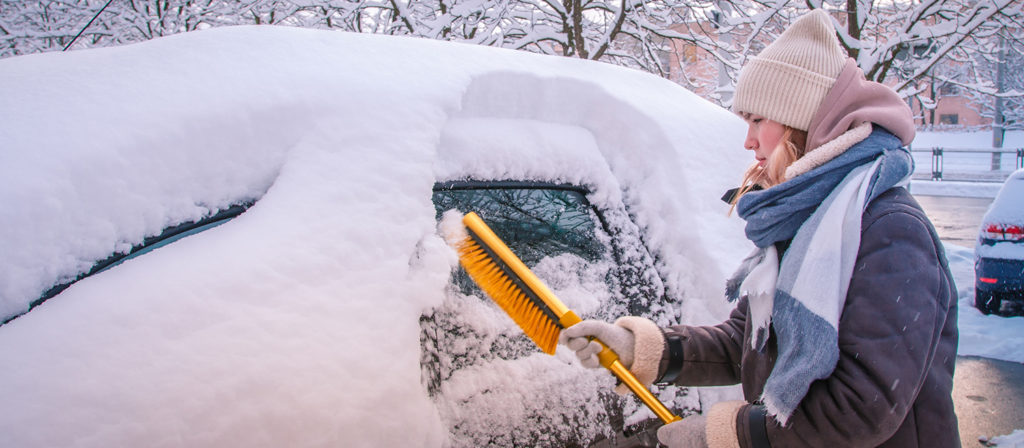 1. Inspect Your Tires
A good place to start your preparations is by checking the condition of your tires. This includes checking your tread and your air pressure. Tire traction is extremely important in snowy and icy conditions, so you may want to get them rotated or replaced if needed. Additionally, maintaining the correct tire pressure can improve your handling in slippery situations.
2. Test Your Battery
Another key thing to check before the weather gets too bad is your battery. Cold weather tends to put additional strain on car batteries and may cause them to fail when you try to start the car. It's a good idea to test your car battery and make sure there's no corrosion on the terminals. If you would rather not test the battery yourself, many car repair companies offer the service for free or for an affordable price.
3. Check Your Fluids
It's always a good idea to stay on top of your car's fluid levels, but it's especially important in extreme weather conditions. Make sure your windshield wiper fluid reservoir is full, check your oil or get it changed if necessary, and check your coolant/antifreeze levels. In some instances, you may want to replace your car's fluids with winter-grade formulas that won't freeze or clog up your engine.
4. Test Your Headlights and Wiper Blades
One of the most basic preparations for winter driving is to make sure your headlights, brake lights, and windshield wipers are in good condition. Driving with a bad light or wiper blade can be extremely dangerous, especially in low-visibility conditions. Inefficient wiper blades can even make your visibility worse!
5. Get Your Brakes Serviced
Freezing temperatures and precipitation can put an increased amount of strain on your brakes, so it's a good idea to get them serviced throughout winter. Your brakes may even experience rusting if your town or city puts salt on the roads. Get some peace of mind by taking your car to your local auto repair shop so they can take a look at your brakes and make sure you're good to go.
6. Invest in Winter Tires
If you commute during the winter and your area tends to have frequent hazardous weather, consider investing in a set of quality winter or "snow" tires. These tires are made specifically for icy and snowy road conditions, and they can give you better traction and handling when you need it.
7. Add to Your Emergency Kit
A good emergency kit is essential for everyday driving, but it's especially important when ice and snow are involved. In addition to things like a flashlight, flares, jumper cables, first aid supplies, a multi-tool, and a blanket, you'll likely want to include the following:
Gloves
Shovel
Extra jacket, socks, and hats
Winter boots
Ice scraper
De-icer
Sand or kitty litter for traction
Tire chains
If you haven't already, get ready for winter driving conditions with this basic list! Visit your local trusted auto repair company today to get your car ready for the cold.