Fall is a wonderful time of year to use your imagination and enjoy fall crafts with the kids. Here are five fall craft ideas that will keep the little ones entertained and provide some handmade fall decor for your home!
Pumpkin Painting
Pumpkins are a fall staple and perfect for kid-friendly crafts. However, carving pumpkins can be quite messy, time-consuming, and hazardous (since knives are involved). An easy alternative is to paint pumpkins instead! Pumpkin painting is fun and safe for kids of all ages.
Simply pick out the perfect pumpkins at the store or the local pumpkin patch and wipe them down or wash them before painting. You can use any size of pumpkin for this activity. You'll likely want to set up a designated space for painting so you can easily clean up later. Be sure to use paint that is safe for kids, especially for younger children who are prone to getting paint on their hands and faces. Once the pumpkins are dry, set them out by the front door or around the house for some easy fall decor! Your kids will love coming home to their creations.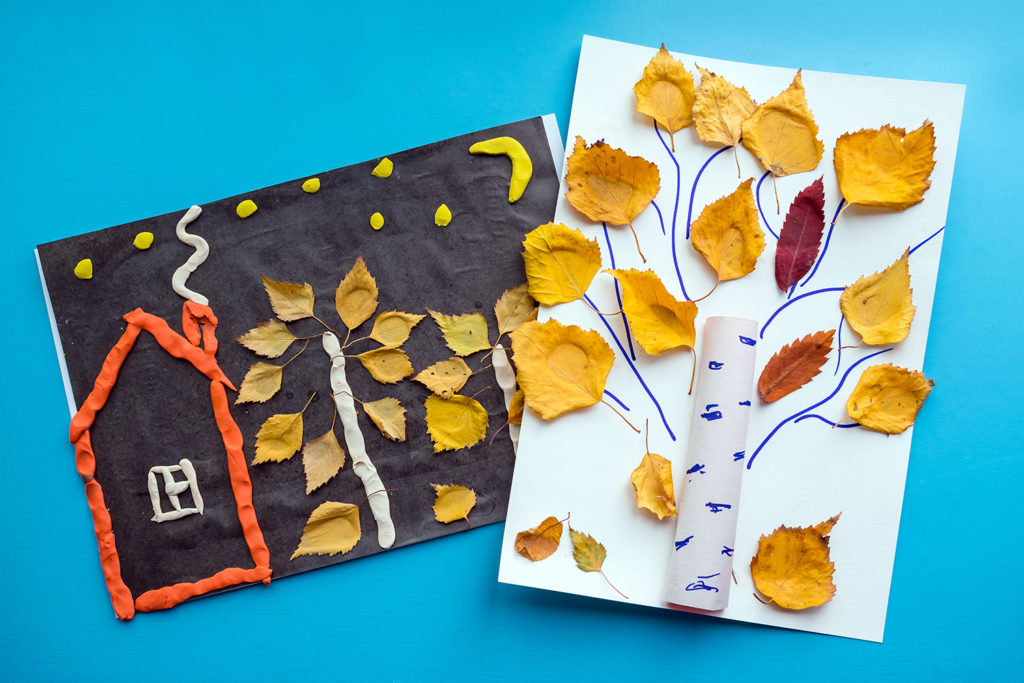 Handprint Turkeys
Handprint turkeys are a classic fall craft for kids, and they're so easy to do! With a pen or pencil, trace your hand (or your kiddo's) onto a piece of paper or cardstock. You'll want to have your fingers spread out like you're holding up the number five. Show your kids which finger is their turkey's neck and head (hint: it's the thumb) and have them add a small triangle for a beak. They can use crayons, markers, colored pencils, or paints to color in the turkey's body and feathers. Feel free to get creative with different colors or stay traditional with a brown, yellow, red, and orange turkey. Once the kids are done, help them glue on some googly eyes for the finished craft!
Paper Bag Scarecrow Puppet
Paper bag scarecrow puppets are a fun craft for kids that can also double as a bit of temporary entertainment. For this fall craft, you'll need a small paper bag, googly eyes, and some markers or crayons. You can also use cardboard paper to make cutouts for clothes, a scarecrow hat, and "straw" hair if you want to get extra creative points!
To get started, go ahead and draw a half-circle shape underneath the paper bag flap for the puppet's mouth. Your kids can fill this in with their coloring supplies, and it makes sure they don't accidentally fill this space with anything else. Once your kids are done decorating their puppets, you can invite them to put on a puppet show for the family!
Leaf Pressing and Collages
Leaf pressing and collages are great crafts for when the leaves change colors and start falling to the ground. These crafts involve a bit of time and patience, so you may want to start a little early in the season so you can still enjoy the decor before the end of fall!
First, take your kids on a neighborhood walk and have them pick up fall leaves (preferably flat ones) in every color they can find. Once home, lay them between pieces of wax paper in a big heavy book, and then place more books or heavy objects on top to add pressure. Keep the books in a dry space. Check on the leaves after a few days to make sure they are drying properly and not rotting between the pages. After two weeks of pressing, they should be ready to reveal and use for decoration.
The leaves will be somewhat fragile after being pressed, so make sure your children understand to handle them gently when decorating! If you plan to make collages with your kids and want to use hot glue, you'll likely want to use the machine yourself and keep your children from touching the point.
Pine Cone Bird Feeders
Pine cone bird feeders are a wonderful craft to help kids get a little involved in nature. For this fall craft, all you need are pine cones, peanut butter, some birdseed, and a bit of string.
First, tie a loop of string or twine onto one end of the pine cone so you can hang it outside. Then, use a dull butter knife to spread peanut butter within the petals of the pine cone. Depending on the age of your kids, you may want to do the peanut butter spreading. Once this step is done, have your kids help you roll the pine cone in a pan of birdseed. You can find birdseed in most agriculture and feed stores, pet stores, or garden stores. Shake the excess birdseed into the pan to help reduce the mess, and you're done! Hang the pine cone feeders outside in spots where you and your kids can watch from the window, and let the bird watching begin.
With fall coming quickly, it's good to have a few crafts on hand! Which of these will you try with your kids first?