Day hiking is an excellent way to get outside and enjoy nature. It can also be a great opportunity to exercise, explore new hiking trails, and spend time with friends or family. If you are planning a day hike soon, we've compiled a list of 10 must-haves that will make all the difference!
1. Good Shoes or Hiking Boots
This one might seem obvious, but many hiking beginners simply forget to wear good footwear. It's important that you have a sturdy hiking shoe or hiking boot with adequate ankle support and enough tread on the bottom for any type of terrain—whether it be dry dirt trails or rocky mountain paths.
2. Backpack
If you don't have a backpack for your hike, you'll want to find one. A hiking backpack should be large enough for the day's essentials but small and lightweight enough that it doesn't cause unnecessary fatigue during your hike. One great feature of a hiking backpack versus a regular backpack is the hip belt, which will help distribute weight evenly across your hips while walking for long distances on rough or uneven terrain.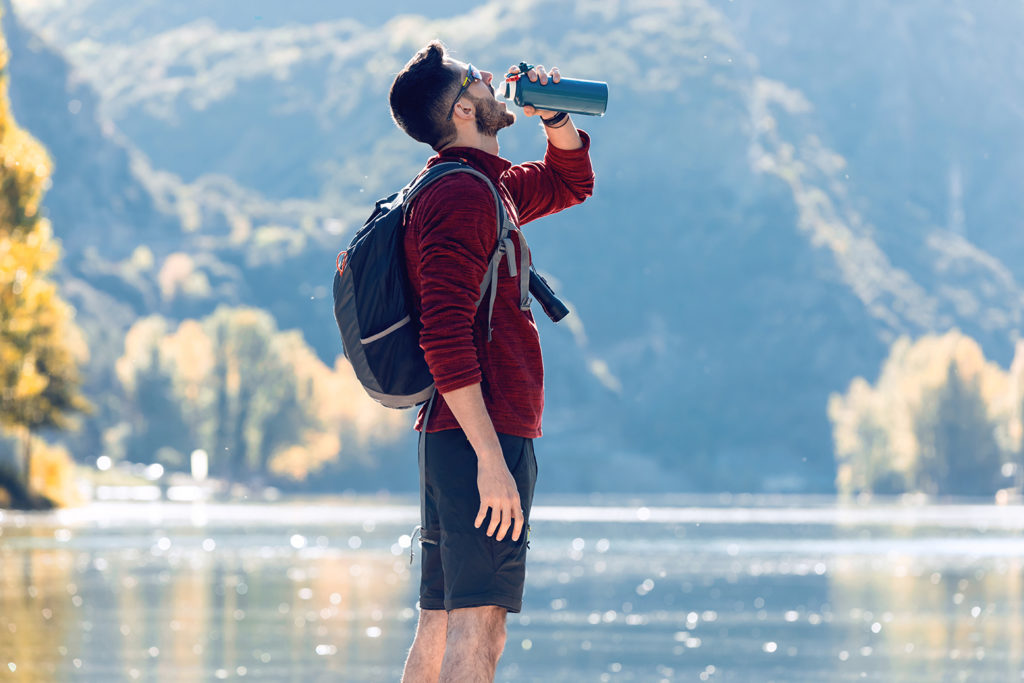 3. Water
No matter where or when you're hiking, you'll want to bring plenty of water and pre-hydrate beforehand. Try to avoid hiking during the hottest part of the day as you'll be more likely to get dehydrated. A general rule of thumb is to have half a liter of water for every hour you hike, and adjust that amount for factors like heat, altitude, and difficulty. If you are going on a long day hike and will be near running water, you may want to pack water purification tablets or a portable filtration system. Otherwise, you'll want to pack enough water to get you through the whole day.
4. Snacks
Every hike is better with snacks. Granola bars and trail mix are great options for hikes that last more than two hours. Hunger can really take a toll on your energy levels on longer hikes and make you feel sluggish and exhausted, which will make it more difficult to enjoy yourself or appreciate nature.
5. Sun Protection
Sunglasses, sunscreen, hats, and protective clothing will help you avoid getting sunburned on your hike, which can lead to skin damage down the line. Being too exposed to the sun without enough protection can also lead to heat exhaustion or even heat stroke if hiking in hot weather, so make sure you're prepared with plenty of sunscreen, protective clothing, and water.
6. Insect Repellant
Bug spray with 15-25% DEET will help keep those mosquitos, ticks, and other pesky insects away. Do your research on the insects in the area you are hiking, as they will differ from region to region. Depending on the hiking area you're going to, a good insect repellant may even be necessary during the winter months. Mosquitoes can carry diseases like West Nile virus, so it's important that your skin is protected from their bites!
7. First Aid Kit
Even if you're just going on a day hike, a first aid kit is a must-have. A hiking first aid kit should include bandages, gauze pads, antihistamines, tweezers, antibacterial ointment, and other items that you might need in the event of injury. It's a good idea to also bring acetaminophen or ibuprofen for any aches or pains as well as antiseptic or alcohol wipes for injuries involving blood.
8. Change of Clothes or Weather-Appropriate Clothing
Your hiking clothes and gear should be appropriate for the weather. A good rule of thumb is to dress in layers so that you can easily remove or add clothing depending on how warm (or cool) it gets while hiking. Weather-specific clothing could include a hat or hoodie for changing temperature conditions, a rain jacket if you're expecting rain, and gloves in the winter months.
9. Map and/or Navigation
For longer, less-marked hikes, it's especially important to have a map in addition to equipment such as a GPS or compass. A hiking GPS device can be very helpful when hiking on trails with numerous intersections and forks, which may take you in the wrong direction if you're not familiar with your surroundings.
10. Tools and Safety Items
It never hurts to bring hiking tools such as a knife or multitool, rope, carabiner, headlamp, temporary shelter, whistle, or flare in case you need them. You may not ever need these hiking tools and safety equipment on a shorter day hike, but they're important to have just in case something unpredictable happens.
When planning your next day hike, be sure to keep these 10 must-haves in mind! Do you have something you never leave home without? We want to know about it! Tag us on Facebook, Twitter, or Instagram @WhirLocal.