Glass Doors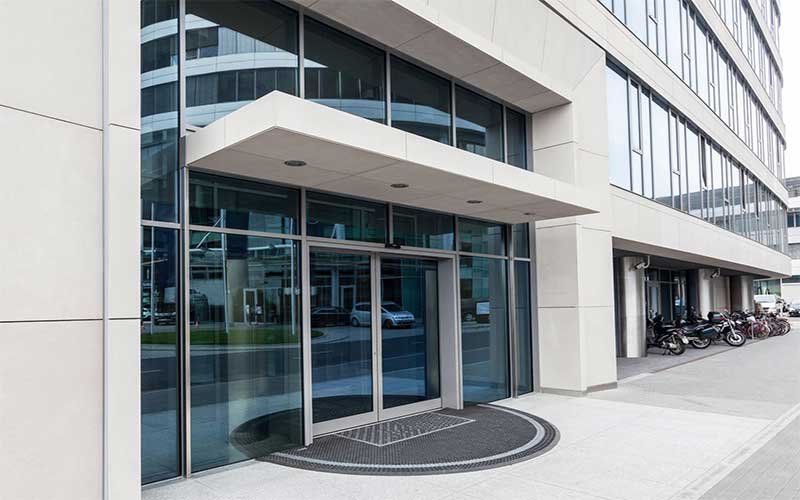 A door is not merely an entrance or exit; it has style and grace. It offers fire, theft and weather protection. It opens into a home, an office, a conference room, a garage or a warehouse. It can lock in place or swing open automatically. It can be plain or ornate. Its glass can be transparent or opaque.
The door of your New York City house or Manhattan commercial space — for better or worse — often sets an expectation or a mood when a visitor, family member or employee crosses that threshold. You have the opportunity to set that expectation and adjust that mood by having Sky Windows & Aluminum Products design, build and install your next glass doors, aluminum doors and more.
Residential Glass Doors
Not all residential doors need to be made of wood. You can have beautiful yet sturdy aluminum doors or glass doors. Sliding glass doors continue to be popular for New Jersey houses or New York City condos. Sky Windows can install standard or custom-sized sliding glass doors to lead to your deck or back yard. Safe and beautiful, sliding glass doors provide comfort and ease. And sliding glass door curtains that match your décor let the sun shine in or protect your privacy.
Every new door can be built to fit your current or projected design. Replacement glass doors or aluminum doors for your home:
Increase the value of your house
Improve the appearance of your home
Are constructed of fire-retardant materials
Come in styles for interior and exterior use
A new garage door for your NYC-area home protects your belongings and helps make your home look new again. Garage doors often get a lot of use, and they don't last forever. Sky Windows offers an extensive line of high-quality materials such as fiberglass or steel, and there are styles to match your home.
Commercial Glass Doors
Doors for your commercial business in Manhattan or in any of the other parts of the city have specific requirements. They have to be inviting, functional and easy to maintain. You have your choice of materials for your commercial doors:
Commercial glass doors provide inexpensive options, but still offer advantages like fire resistance and thermal properties.
Herculite doors — all-glass doors — look impressive. While herculite doors may be best used for interior doorways, they can lock securely.
Commercial aluminum doors are lightweight and come in hundreds of colors. They can be insulated, if needed, and come with a variety of hardware.
Read more at https://www.skywindowsnj.com/services/glass-doors
Working Hours:
Monday-Friday: 8am to 6pm
Saturday: Closed
Sunday: Closed
Payment: cash, check, credit cards.
Sky Windows and Doors
2545 Stillwell Ave,
Brooklyn, NY 11223
(718) 517-9178
(888) 759-5963
https://www.skywindowsnj.com
Keywords: Contractor, storefronts, window installation, replacement windows, glass railing, vinyl windows, aluminum windows, doors, mirror installation, curtain walls, glass canopies, glass canopy nyc, glass canopy brooklyn, window installation nyc, storefront windows nyc, storefronts nyc, glass curtain wall nyc, triple pane windows, storefront doors, storefront windows, reglazing windows, glass canopy, storefront glass, glass partition walls, office wall dividers, sliding glass walls, aluminum storefront doors, curtain wall installation, storefront door, sliding glass wall, glass storefront, window repair nyc, aluminum glass doors, storefront window, commercial aluminum windows, florida room designs, glass wall partitions, glass porch enclosures, glass wall dividers, glass storefront doors, vinyl curtain walls, glass patio covers, replacement insulated glass panels, inside glass doors, store front window, storefront canopy, frameless glass wall, interior glass railing systems, glass office dividers, storefront windows and doors, storefront designs, glass wall partition, brooklyn windows, nyc windows, residential aluminum windows, three pane windows, window replacement nyc, free standing partition walls, glass store front, glass wall installation, store front ideas, glass storefronts, glass divider wall, window glass replacement nj, entrance ways, windows brooklyn, residential curtain wall, wall windows and glass, window canopy designs, interior curtain wall, office wall divider, frameless glass walls, wall dividers nyc, curtain wall window.