GLASS CANOPY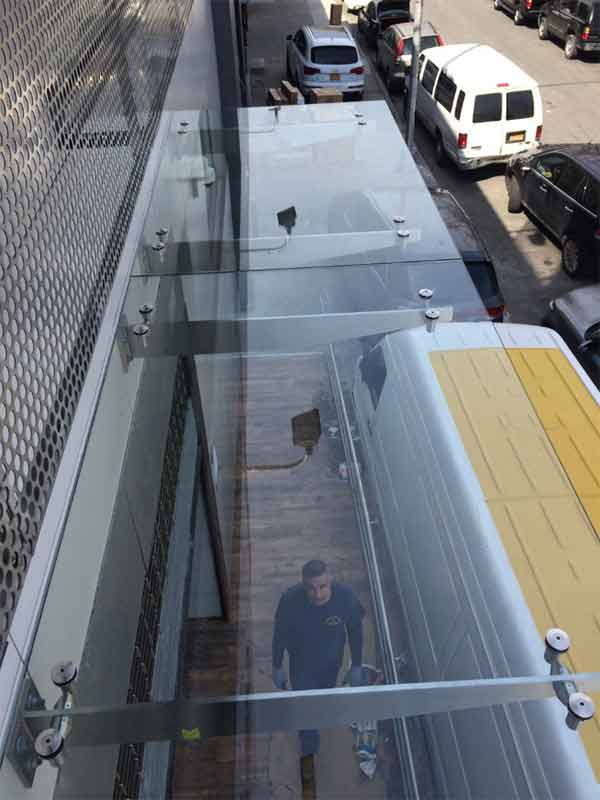 Glass Canopy Design, Manufacturing and Installation
Construction of superior and durable glass canopy in metropolitan New York and the entire tri-state area, NJ.
Structural Glass Canopy Design
Our designs are perfect solutions for providing cover during inclement weather. They are also easy to maintain, clean and add the ability to better utilize the outside space of your building. Our outside constructions are particularly popular with architects, schools and building contractors. They're perfect for business areas and specialties, such as Education, Leisure and Retail. There are several varieties to choose from and our expert installers will go over them with you should you not already have a particular type to choose from.
Glass Canopy Systems
Entrance Covering can add a prominent focal point to a building. The frames may be constructed from aluminium, stainless steel, mild steel or galvanized materials with a laminated safety roof that will be durable and attractive. The design will be adapted to your particular requirements which will ensure that you have an entrance covering that is not only practical, but aesthetically pleasing while meeting a budget that your business will be comfortable with.
Canopy Installation Options
A Skyline Aluminum will improve your building functionality by featuring a sheltered area. This area can then be used for a host of applications that otherwise wouldn't have been possible. We can construct this type of building addition from different frame options and a laminated safety roof. Our structural engineers will meet with you in order to help you decide on the best materials for your particular application.
Read more at https://www.skywindowsnj.com/services/glass-canopy
Working Hours:
Monday-Friday: 8am to 6pm
Saturday: Closed
Sunday: Closed
Payment: cash, check, credit cards.
Sky Windows and Doors
2545 Stillwell Ave,
Brooklyn, NY 11223
(718) 517-9178
(888) 759-5963
https://www.skywindowsnj.com
Keywords: Contractor, storefronts, window installation, replacement windows, glass railing, vinyl windows, aluminum windows, doors, mirror installation, curtain walls, glass canopies, glass canopy nyc, glass canopy brooklyn, window installation nyc, storefront windows nyc, storefronts nyc, glass curtain wall nyc, triple pane windows, storefront doors, storefront windows, reglazing windows, glass canopy, storefront glass, glass partition walls, office wall dividers, sliding glass walls, aluminum storefront doors, curtain wall installation, storefront door, sliding glass wall, glass storefront, window repair nyc, aluminum glass doors, storefront window, commercial aluminum windows, florida room designs, glass wall partitions, glass porch enclosures, glass wall dividers, glass storefront doors, vinyl curtain walls, glass patio covers, replacement insulated glass panels, inside glass doors, store front window, storefront canopy, frameless glass wall, interior glass railing systems, glass office dividers, storefront windows and doors, storefront designs, glass wall partition, brooklyn windows, nyc windows, residential aluminum windows, three pane windows, window replacement nyc, free standing partition walls, glass store front, glass wall installation, store front ideas, glass storefronts, glass divider wall, window glass replacement nj, entrance ways, windows brooklyn, residential curtain wall, wall windows and glass, window canopy designs, interior curtain wall, office wall divider, frameless glass walls, wall dividers nyc, curtain wall window.