Tax Planning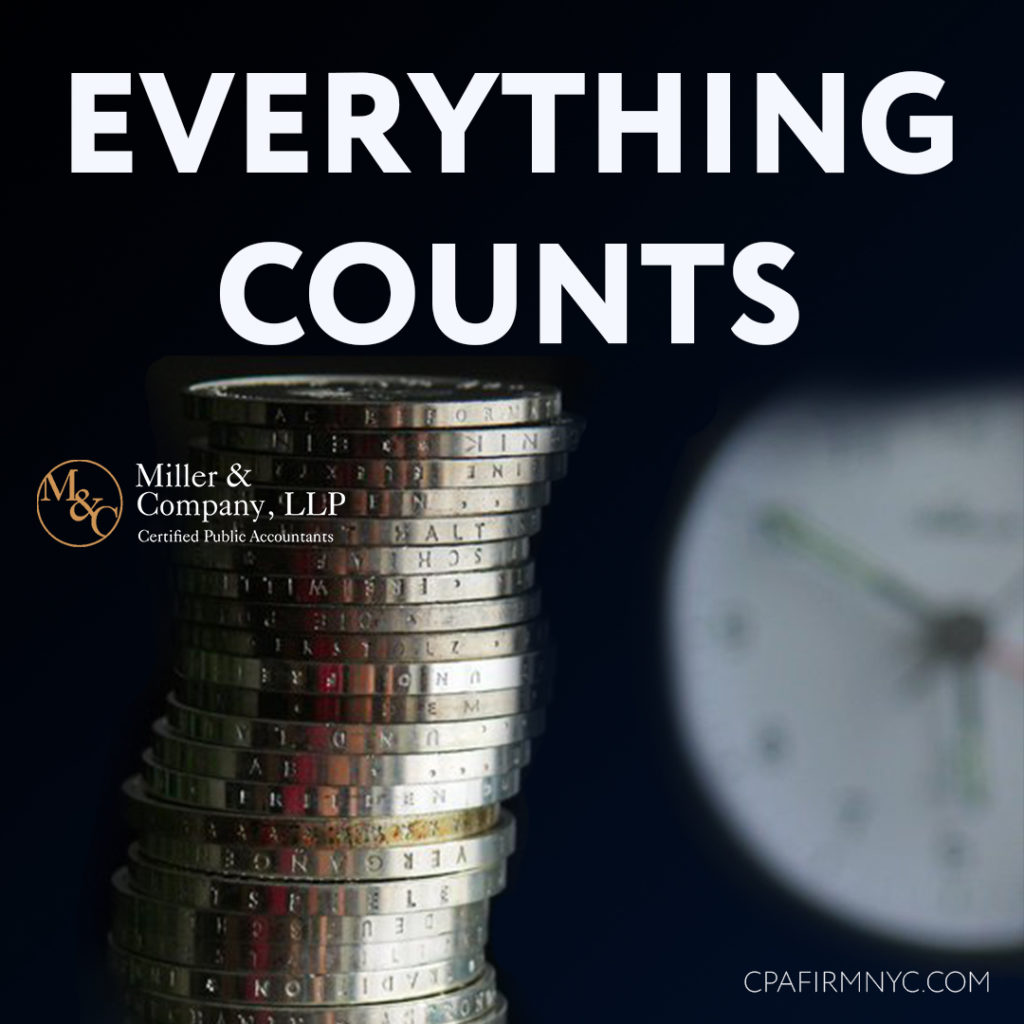 Businesses today have to adapt constantly on all fronts just to survive, let alone prosper. Every year, the tax laws change, and authorities release reams of information regarding rulings, regulations and guidance. Then there's the fluctuating economy, which seems to sputter when you need it to rev and rev when you're prepared for it to sputter. As a result, the markets are in a state of constant flux.
Successful tax planning strategies allow you to keep more of your money by reducing your tax burden on everything you do, year-round. Miller & Company LLP, NY Certified Public Accountants, a best rated NYC CPA firm.
As your business evolves, your opportunities grow, but so do your responsibilities. To ensure that you're managing both your personal and business taxes to provide you the edge to succeed, you need someone to keep an eye on your taxes all year, not just during tax-filing season. You need the best tax accountants New York City offers.
THE GOALS OF TAX PLANNING
NYC accountants at Miller & Company with offices in Manhattan and Queens provides tax planning services that look at your finances in a holistic way, not as piecemeal numbers on a page. They can advise you on the best strategies for achieving your financial dreams. With an in-depth knowledge of the tax laws, their top CPAs consider future possibilities that serve your needs. Your team of personal accountants guides you through strategies regarding income, estate planning, retirement and international issues, ensuring you're confident and informed every step of the way.
In particular, Miller & Company recommends ways to:
Reduce your income taxes
Grow and preserve your wealth and your assets
Reduce taxes on your gifts so you can give more
Reduce your investment taxes
Defer income so you can keep your money now and pay less in taxes later
Do some retirement planning so you can enjoy your later years
Reduce your estate taxes, which helps your family when you're gone
TAX PLANNING STRATEGIES
Your personal advisors at Miller & Company work to strategically align your personal and business vision with current regulations. These strategies minimize your liability and grow your ventures. Your personal CPA makes your wealth work for you by optimizing such tax strategies as:
Identifying tax credits. Your team of CPAs constantly masters the most up-to-date credits available for your tax plan.
Guiding your investments. Your personal accountants advise you on investments that generate tax-exempt income.
Providing transaction consultation. Miller & Company delivers expert transaction consultation for all sales, expansions, mergers and acquisitions.
Deferring tax liabilities. Through smart investments in and contributions to your pension plans, your tax liabilities can be adjusted to serve your best interests.
Tap into the expertise to anticipate opportunities and risks around every corner. You can pay the lowest legal taxes allowable each year because your team of expert CPAs master all current tax codes and laws. It's all part of the package when you hire Miller & Company.
YEAR END TAX PLANNING
Your CPA focuses on your marginal income at the end of every year to legally manipulate your income against other financial decisions — such as a major medical procedure — to put yourself in the best tax bracket for overall income. Your tax accountant guides you through potential deductions, showing you how to use them to your advantage. There are numerous end of the year tax planning considerations, including:
Bonus deferral. It may make sense to wait to accept your annual bonus in the New Year so you don't push your income into a higher tax bracket.
Clever credit card use. Using a credit card to pay deductible expenses at the end of the year increases your annual deductions without having to pay them off until the next year.
Bunching deductions. This strategy may allow you to save on your taxes because some are applicable only if they exceed a certain percentage of your gross annual income.
Settle insurance claims. If you have a casualty loss deduction, settling a claim could help increase this overall deduction.
Roth conversion. Sometimes, converting an IRA to a Roth IRA (or vice versa) can prevent you from paying higher than necessary taxes at the end of the year.
Postpone income. Marginal income can be postponed until the following year to keep it from pushing you into a higher tax bracket.
Annual gift tax exclusions allow you to give money to individuals and save on estate taxes.
Read more at https://www.cpafirmnyc.com/tax-planning
Working Hours:
Monday – Friday: 9:00 am – 7:00 pm;
Saturday: 9:00 am – 4:00 pm,
Sunday: Closed
Payment: cash, check, credit cards.
CONTACT US
Miller & Company LLP
Queens, NYC
141-07 20th Ave, Suite 101,
Whitestone, NY 11357
718-767-0737
Miller & Company LLP: CPA of NYC
Midtown Manhattan, NY
274 Madison Ave, Suite 402,
New York, NY 10016
(646)-865-1444
Manhattan, NYC
18 East 48th Street, #1001
New York, NY 10017
(646) 367-3726
Washington, DC
700 Pennsylvania Ave, SE, Ste 2050
Washington, DC 20003
(202) 547-9004
Keywords: accountant nyc, cpa firms in nyc, manhattan cpa, cpa manhattan, best accountants nyc, manhattan cpa firm, manhattan accounting firms, best small business accountant, best cpa firm, best tax accountant, tax accountant manhattan, tax cpa manhattan, top nyc accounting firm, midtown manhattan cpa firm, accounting firms in manhattan, best cpa firms, , irs payment plan, tax preparation, retirement planning, tax lien, deferred tax asset, tax levy, tax audit, small business accountants, tax planning, federal tax lien, audited financial statements, payroll accounting, small business bookkeeping, cash flow management, tax resolution services, business consulting nyc, irs audit triggers, expatriate tax, international tax accountant, forensic accounting nyc, qualified domestic trust, business registration nyc, certified audit, tax representation, pension audits, financial statement review, international tax planning, international tax consultant, irs innocent spouse, accounting services nyc, strategic planning nyc, business accounting nyc, cpa self employed manhattan, high net worth retirement planning