ACCOUNTING SERVICES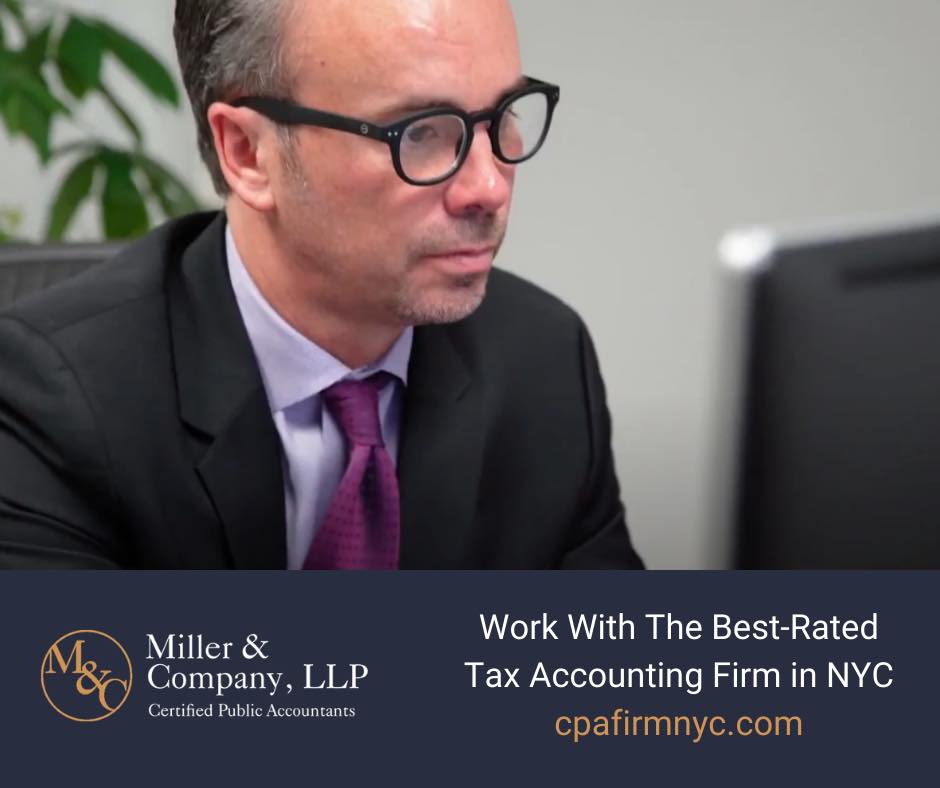 The accounting services you receive from your personal CPAs in NYC or Queens at Miller & Company are customized to your specific needs. Accountant services are nothing to take for granted — from your personal finances to your business interests. Your NYC accountants should remain loyal to your interests at every turn.
With the right combination of creative ideas and constant vigilance, your wealth is more secure with best rated first class accountant in NYC Paul Miller at Miller & Company LLP a top accounting firm located in Manhattan and Queens.
You need a wide range of accounting services to run a finely tuned organization. Similarly, your personal wealth demands steadfast attention to detail, as well as continued adjustments to maintain your vision and financial growth. The only way to skillfully navigate the complex and changing world of taxes and wealth building in America is to develop a solid foundation. That's exactly what you get with a highly skilled and top-rated accounting firm on your side.
SERVICES WHEN AND WHERE YOU NEED THEM
As one of the top CPA firms in the Manhattan and New York City metropolitan area, Miller & Company provides a full range of services to cover your life. To meet your every need, your personal CPAs provide insightful business consulting for your successful business and corporate accountant services. To help you reach your highest potential as a successful entrepreneur, look to accounting service company in NYC, Miller & Company to bring you specific accounting services that include, but aren't limited to:
Certified audits: Scrutiny comes in many forms, but regular audits ensure your financial protection. From skilled tax preparation to pensions and even unreimbursed partnership expenses, rely on your CPAs to bring in-depth knowledge to every internal transaction.
Strategic planning: Experienced CPAs can help you create and review your goals and strategic plans each year. With your financial health secured, you can comfortably negotiate the planning process and all its details, from marketing to payroll.
Cash flow management: You must maintain sufficient reserves to provide the cash flow you need to achieve and grow your productivity — whether you're a Fortune 500 company or a highly successful individual. With superior accountant services, you'll find that perfect balancing point and won't get caught short.
Internal controls: Once you've developed your strategic plans, rely on your CPAs to maintain a watch-dog position over your interests as you do what you do best — grow your business. Since accountant services include building a strict set of internal controls, the same accountants are best qualified to monitor those finely-crafted processes.
Business registration: From the ground up, your personal CPAs help you navigate the regulatory responsibilities to get your business up and running. If you encounter local, regional and national licensing boards, get the help you need, quickly.
Read more at https://www.cpafirmnyc.com/accounting-services
Working Hours:
Monday – Friday: 9:00 am – 7:00 pm;
Saturday: 9:00 am – 4:00 pm,
Sunday: Closed
Payment: cash, check, credit cards.
CONTACT US
Miller & Company LLP
Queens, NYC
141-07 20th Ave, Suite 101,
Whitestone, NY 11357
718-767-0737
Miller & Company LLP: CPA of NYC
Midtown Manhattan, NY
274 Madison Ave, Suite 402,
New York, NY 10016
(646)-865-1444
Manhattan, NYC
18 East 48th Street, #1001
New York, NY 10017
(646) 367-3726
Washington, DC
700 Pennsylvania Ave, SE, Ste 2050
Washington, DC 20003
(202) 547-9004
Keywords: accountant nyc, cpa firms in nyc, manhattan cpa, cpa manhattan, best accountants nyc, manhattan cpa firm, manhattan accounting firms, best small business accountant, best cpa firm, best tax accountant, tax accountant manhattan, tax cpa manhattan, top nyc accounting firm, midtown manhattan cpa firm, accounting firms in manhattan, best cpa firms, , irs payment plan, tax preparation, retirement planning, tax lien, deferred tax asset, tax levy, tax audit, small business accountants, tax planning, federal tax lien, audited financial statements, payroll accounting, small business bookkeeping, cash flow management, tax resolution services, business consulting nyc, irs audit triggers, expatriate tax, international tax accountant, forensic accounting nyc, qualified domestic trust, business registration nyc, certified audit, tax representation, pension audits, financial statement review, international tax planning, international tax consultant, irs innocent spouse, accounting services nyc, strategic planning nyc, business accounting nyc, cpa self employed manhattan, high net worth retirement planning