Professional Reputation Commercial
We know that there are basically two types of online searches
A keyword search

A reputation or referral search
We believe that a reputation or referral search is just as important (if not more important) as keyword searches, because these are done by people searching specifically for your company. What they find when they do the search … could make or break your company over time. We also know that video is a great way to stand out online because people are drawn to video and it is engaging. That's why we've developed what we call "Reputation Commercials".
We produce these videos showcasing one of your 5 star reviews using one of our professional spokes models and complete branding for your business. Then we upload it YouTube and optimize it for the search engines so when somebody searches "your business name" + "city" + "reviews" – your Reputation Video is likely to show up in the search results and provide positive, lasting content for your prospect.
This is how the videos can look on a Google search page: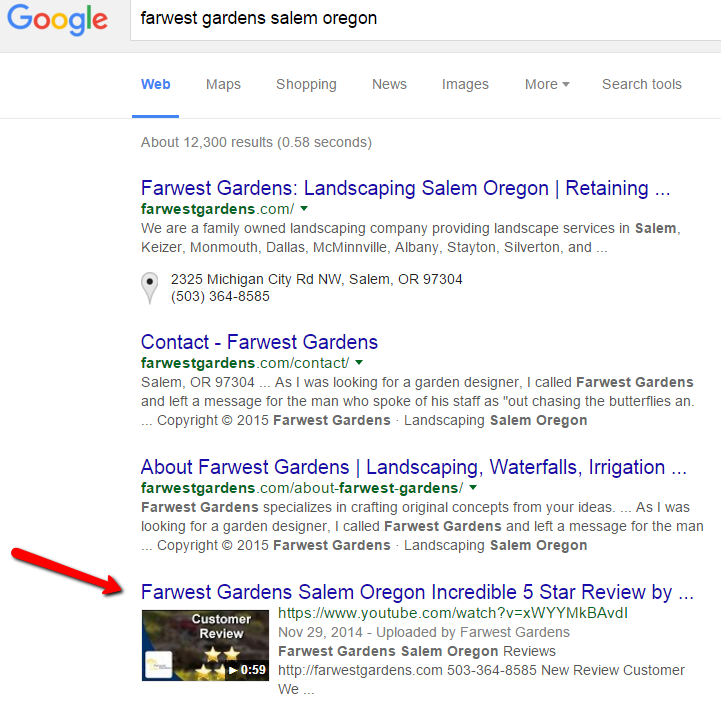 Here's what you get with each video
Professional video showcasing one of your 5 star reviews or testimonials
Choice of 4 different styles (spokesmodel, collage, whiteboard, chalkboard – black or green)
Custom "call to action" at the end
Video loaded to YouTube (can be embedded on your website or neighborhood listing)
Video optimized for the search engines for your company name + reviews
You can imagine the positive impact that this can make for prospects. How much is a good video worth, let alone a positive, reputation-building video that lives in the search results and on YouTube forever? $1500, $2000, $3000+?? Rest assured, we're not charging that much! 
Get Started For Just $297
Located in Salem, Oregon, we are a nationally recognized digital marketing agency specializing in helping local businesses harness the power of the web to become market leaders.