Green Acres Landscape Inc. Listed #2 Best Green Workplace In State By Oregon Business
(Salem, Oregon – June 5, 2021) Green Acres Landscape Inc. is ranked #2 in Oregon as the Best Green Workplace by Oregon Business, a news source, and magazine. This is the 13th consecutive year that the magazine recognized the company for sustainable practices.
"Ranking #2 on the 100 Best Green Companies list exemplifies the work our staff and company continually do to lead by example through our mission to respect and protect the environment. It's extremely validating," said Bonique Hollinrake, Project Manager at Green Acres Landscape."
The Best Green Workplaces were determined by employees, who took anonymous surveys to rate their satisfaction with their employers' sustainable practices. This included green mission and goals, recycling and waste reduction, energy and water conservation, and buying local. Employers were also independently scored on their sustainability practices.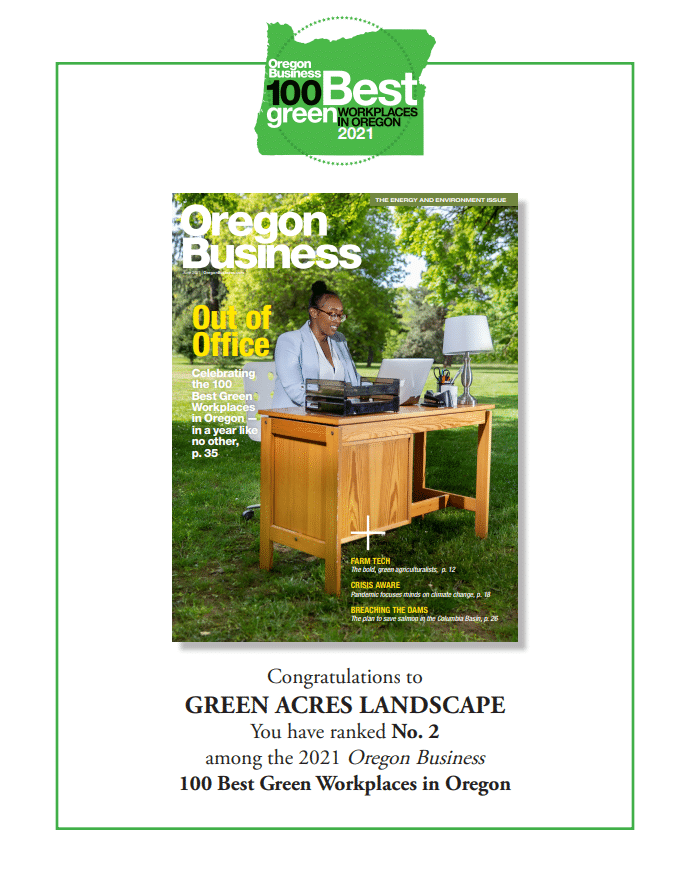 In a video congratulation, magazine editor Kim Moore complimented the honorees for maintaining their sustainability efforts during the pandemic when many had a mostly remote workforce. "You are really at the forefront of climate awareness, and your inclusion in the list is an inspiration to other organizations in the state to be better environmental stewards," Moore said.
Green Acres Landscape is EarthWISE certified by Marion County since 2008. To earn this designation, businesses must meet high standards for recycling, waste reduction, and green power.
This has been a banner year for Green Acres Landscape and its 120 employees. They were recently recognized by Oregon Business as one of the "Best Places to Work," as one of four Oregon State University Center for Family Enterprise 2021 Family Businesses of the Year, and Project Manager Bonique Hollinrake received the Phenom Award from the Daily Journal of Commerce.
Click here for the 2021 100 Best Green Workplaces in Oregon list
CONTACT:
Bonique Hollinrake
Green Acres Landscape Inc.
E: [email protected]
P: (503) 399-8066
###
About Green Acres Landscape Inc.: About Green Acres Landscape: Green Acres Landscape is a full-service, residential, and commercial landscaping business and nursery in Salem, Oregon, located at 5701 Gaffin Road SE. Their fully-appointed showroom includes Green Acres at Home, a decor and gift shop. Green Acres' projects include designing and installing, maintaining and enhancing, and providing general lawn care. Green Acres has been serving the people of Oregon since 1992 and has grown to over one hundred employees and over five thousand satisfied customers. Their mission is to provide an unequaled landscape solution and value to each client while respecting and protecting the environment. Call 503-399-8066 or visit www.GreenAcresLandscapeInc.com for more information. LCB #7389 – CCB #198925
This post was first published on greenacreslandscapeinc.com.