Living in or moving into a home with a small kitchen can be frustrating when it comes to storage space (or lack of it). However, there are many affordable ways to increase your storage without investing in expensive installations or remodels. Let's go over eleven storage ideas for small kitchens that will help you maximize your space.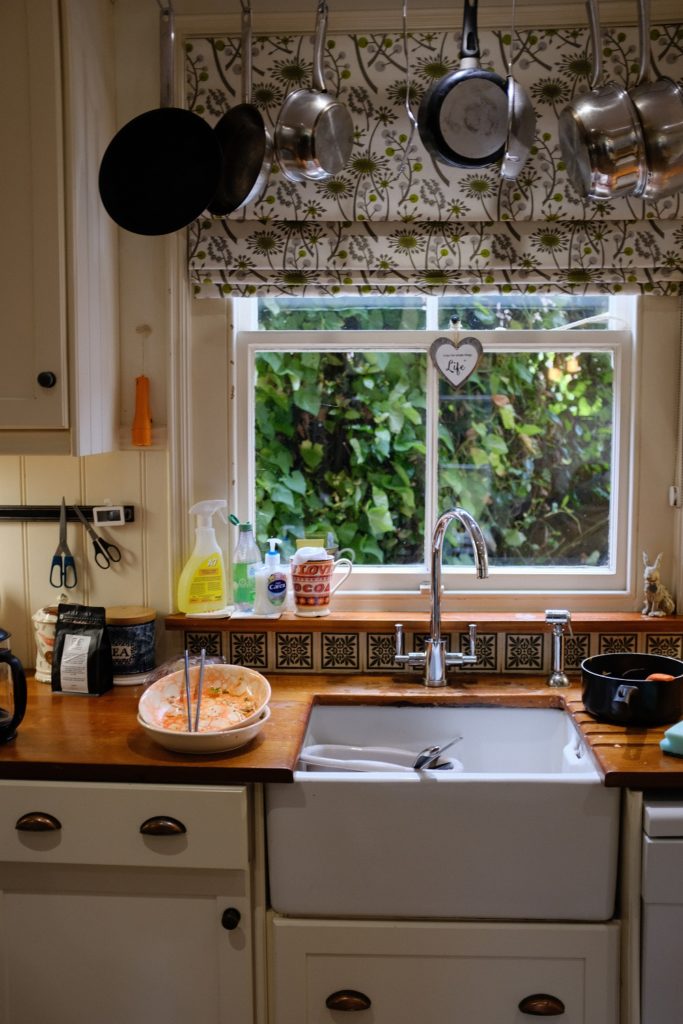 1. Shelf Risers
Utilizing shelf risers is a great way to create more dedicated spaces in a small kitchen. They are especially useful for cabinets, pantries, and even countertops that have extra vertical space.
2. Drawer Dividers
Drawer dividers and removable bins are perfect for organizing kitchen utensils, silverware, and other small kitchen items. Not only do they help to maximize drawer space, but they also make finding what you need a lot easier by reducing disorganization and preventing items from piling on top of each other.
3. Cabinet Door Storage
Adding storage to kitchen cabinet doors can add valuable storage space that would otherwise be unused. There are many creative ways to do this, from installing hooks or lid holders to adding small utensil bins to storing your reusable produce bags.
4. Narrow Rolling Cabinets or Shelves
If your kitchen has a narrow space between your oven, fridge, or counter, consider investing in a narrow rolling cabinet or shelf. These come in a variety of heights and widths to fit almost any narrow space, and they can store anything from spices and pantry items to cookbooks or cleaning products.
5. Magnetic Shelves or Hooks
Magnetic shelves or hooks can be incredible space savers in small kitchens. If you have extra space on the side of your fridge, you can use magnetic shelves and/or hooks to store extra pantry goods, kitchen utensils, pans, or even paper towels. Most magnetic fridge shelves and hooks are made with extra-strong magnets to hold all of your items securely.
6. Pot Rack
If you have an unused kitchen wall or extra real estate above your stove, installing a pot rack is a great way to utilize your space. Pot racks come in a variety of shapes and sizes, and most can hold quite a few pots and pans. This is an especially great storage option if your small kitchen doesn't have many cabinets, countertop, or under-oven space.
7. Magnetic Knife Bar
Running out of counter or drawer space for your knives? A magnetic knife bar might be the answer. This simple kitchen addition installs in minutes and can hold a number of knives or other magnetic kitchen tools on the wall.
8. Vertical Storage Shelves
Adding vertical storage to your kitchen is one of the best ways to utilize unused wall space. If you have space on the floor you could opt for a standing cabinet, bookcase, or kitchen cart; or, if you are working with extra wall space, you could install some wall shelves.
9. Corner Shelves
Don't forget about your corners! Corner shelves can add extra storage or decor space in an area that otherwise tends to be underutilized. Corner shelves come in all sorts of shapes and sizes, so you can find the perfect option for your kitchen's layout.
10. Over-Sink Storage or Prep Space
If you have a large kitchen sink but not a lot of counter space, you might consider adding some over-sink storage or prepping space. This could be anything from a simple shelf for cutting or rinsing veggies to an over-sink dish rack to a more elaborate system with multiple shelves.
11. Kitchen Island Storage
In open kitchens with little counter space, you may be able to incorporate a small kitchen island. Kitchen islands can provide valuable storage and prep space! Many mobile kitchen islands come with cabinets, drawers, or shelves that can double your storage space.
When it comes to maximizing storage in a small kitchen, there are countless possibilities. What is your favorite small kitchen storage hack? Let us know!