Painting your own home is a DIY project that can be both rewarding and cost-effective. It often saves money, gives you the satisfaction of completing a project yourself, and can be an enjoyable experience. However, there are some important things to know before you start painting. Let's talk about them!
Plan Before You Paint
Paint can be an expensive investment, so it's important to plan ahead. Hopefully, the more you plan beforehand, the smoother it will go for you later on. First, be sure to swatch which paint colors you want in your home (or outside your home, if you are painting your house exterior). Next, you'll want to plan to move your furniture away from the walls or into another room so it will be out of the way. Make a list of tools you'll need to purchase if you don't already have them, like rollers and paint trays, painter's tape, drop cloths/sheets, brushes for corners and edges, a stepladder, and more. Finally, you'll want to make sure that you thoroughly prep and prime your walls as necessary before painting. Wipe your interior walls with a damp cloth or wash exterior walls to remove any dust, dirt, or grime that might get in the way or cause the walls to have an odd texture. Make sure the surfaces are completely dry before priming and painting!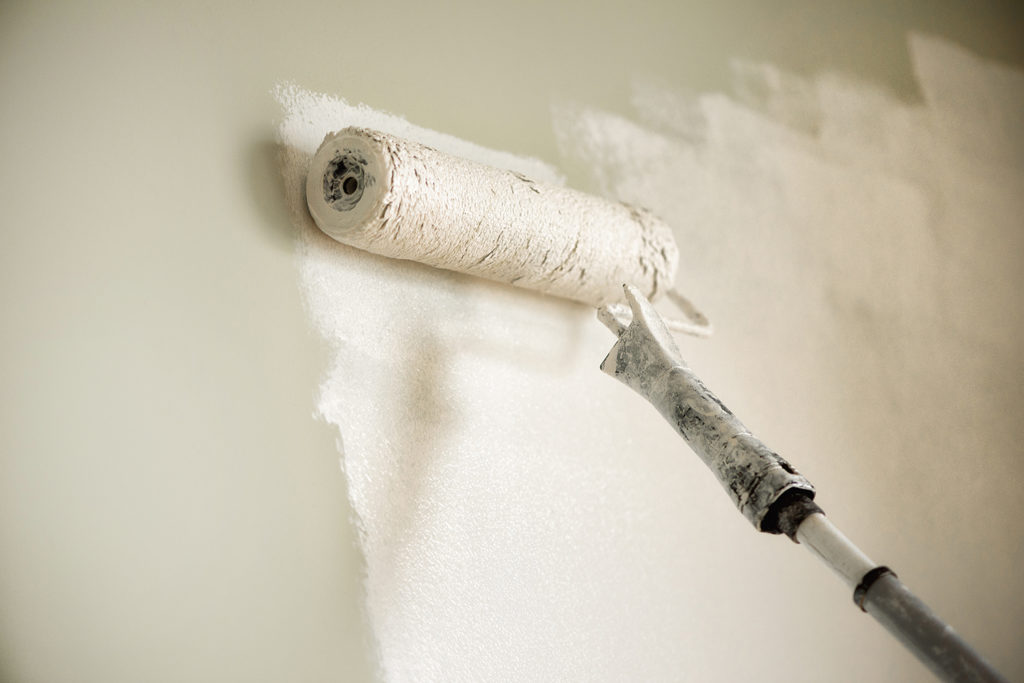 Don't Wait to Ventilate
If painting inside, it's important to make sure you are ventilating the area well. Open your windows or doors to allow any paint fumes to disperse instead of staying trapped in one room. If you're painting in the summertime or warmer months, this won't be much of a problem—however, if you're DIYing in the cold months and don't want to keep your windows open the whole time, make sure you take breaks for fresh air or open the windows every so often to air out the room.
Allow Yourself Time (and Patience)
Last but not least, DIY projects can take a little more time than you realize, so it's often best practice to allow yourself enough time and patience to complete it. Be realistic about how long each area will take to get done, and then be gracious with yourself if it takes longer. If it's your first time painting something of this size and scale, allow extra time in case you run into unexpected problems.
When to Hire a Professional
DIY home improvement is a fantastic way to save money, but sometimes it's not the best way to go about updating your home. There are some instances when it might be better to hire a local professional painter or painting company instead of DIYing the whole thing yourself.
Here are five scenarios to keep in mind:
1. If you have never painted before (or if this is your first time painting something of this scale) and the task feels daunting, you may want to consider hiring someone to save time, energy, and peace of mind.
2. If the project is complex or involves hard-to-reach areas, a professional painter will know how to get the job done quickly and easily.
3. If your home's existing paint is peeling or flaking and needs to be removed by scraping, hiring a trained professional to take care of the project from beginning to end may save you a few headaches.
4. If the walls of your home are experiencing issues like mildew, wood rot, or poor caulking, you may need to hire someone to fix those issues before you get started with painting.
5. If you are working within a limited timeframe and are unsure about whether you'll be able to complete your project on time, consider contacting your local painting company for a bid and their estimated timeframe for getting the job done. The price of hiring a professional may be well worth your time.
Are you planning on painting your home yourself? We hope these tips are helpful for you and your next DIY paint job. If you have questions about painting your home or need some assistance throughout the process, contact your local paint company for recommendations.