Dental Cleaning for Kids and Teens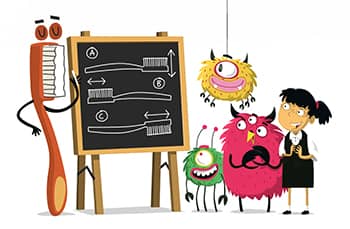 Dental Cleanings or Prophylaxis ("prophy") is an essential component of preventive dentistry. The goal is to remove microbial plaque which can cause gingivitis (gum inflammation), and cavities.
Only our professional staff can determine how frequently this must be done. Some patients accumulate tartar faster than others.
Prophylaxis and Why It Will Help Your Kid
If you regularly visit a pediatric dentist then it's likely you have your teeth professionally cleaned at least twice a year. This is to remove any hardened plaque or tartar from teeth which helps keep your teeth and gums in great shape.
Prophylaxis reduces the risk of gum disease and tooth decay and your kid needs regular professional dental cleanings for exactly the same reasons as you. During this appointment, it's also possible for the hygienist to identify any areas your child might be missing whenever they brush or floss their teeth.
Read more https://www.nycpediatricdentist.com/dental-cleaning/

Call Pediatric Dentistry today to schedule an appointment for you or a family member by the number (212) 988-4070 and see what a beautiful, healthy smile can make.
Pediatric Dentistry: Dr. Sara B. Babich, DDS
116 E 84th St,
New York, NY 10028
(212) 988-4070
Web Address www.nycpediatricdentist.com/
Nearby Locations:
Carnegie Hill | Yorkville | Lenox Hill | Upper East Side | Midtown Manhattan
10029 | 10028 | 10021| 10044, 10065, 10075, 10128 | 10022