Neck Pain Treatment Specialists in Brooklyn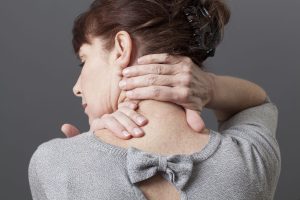 Recover from your neck pain, stiffness, radiating pain in arms, shoulders, or back with the latest non-surgical treatment options, including trigger point and cervical facet joint injections, medial branch blocks, physical therapy, and chiropractic care. Our neck pain specialists can pinpoint the source of your neck pain and prescribe a personalized, time-tested treatment plan that works. Visit our sports injury clinic and meet our physicians to get the pain relief you need in the safe, reassuring hands of the best doctors in New York.

Neck Pain in Downtown Brooklyn & Lower Manhattan
Neck pain comes with a wide variety of symptoms and causes. You can have an attack of acute neck pain that's brought on by a simple movement or you can suffer from chronic neck pain and have a serious condition that builds and grows in intensity over time. Neck pain is often different for each person, even when they have a similar diagnosis. You can rely on the expertise of well-trained and vast experienced doctors at Downtown Pain Physicians to give you the most effective and seamless relief solutions.
Because there are so many different types of neck pain, it's best to see a doctor who can find out what the underlying cause is and begin treatment immediately. If you happen to live in the New York City area, Downtown Pain Physicians can help you find the right diagnosis and your doctor will create a customized treatment plan to relieve your neck pain.

Read more: https://www.downtownpainphysicians.com/neck-pain-management/

Contact Downtown Pain Physicians Of Brooklyn today to receive more information or to schedule an appointment by calling our office number (718) 521-2424.
Downtown Pain Physicians Of Brooklyn
145 Henry Street, # 1G,
Brooklyn, NY 11201
(718) 521-2424
Web Address https://www.downtownpainphysicians.com/
email: [email protected]
Our location on the map: https://g.page/paindrbrooklyn
Nearby Locations:
Dumbo | Vinegar Hill | Bridge Plaza | Brooklyn Heights | Cobble Hill | Boerum Hill
11201 | 11251 | 11231 | 11217
Working Hours:
Monday: 08.00AM – 07.00PM
Tuesday: 08.00AM – 07.00PM
Wednesday: 08.00AM – 07.00PM
Thursday: 08.00AM – 07.00PM
Friday: 08.00AM – 07.00PM
Saturday: Closed
Sunday: 08.00AM – 07.00PM
Payment: cash, check, credit cards.