Plaque Psoriasis · Dermatologist · Cosmetic Laser Dermatology NYC
Plaque Psoriasis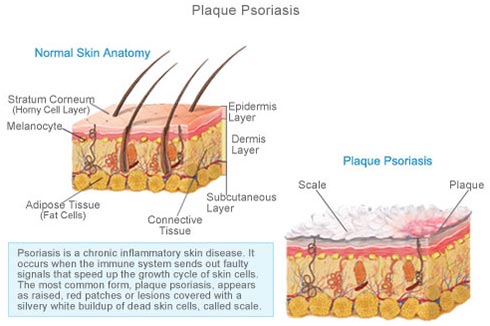 Plaque psoriasis is a condition wherein patches of red, irritated skin with a silvery scaly top layer appear on parts of your body. There are seven other kinds of psoriasis, but plaque psoriasis is the most common form, affecting two to three percent of the population in the United States. It commonly occurs with other diseases — such as other autoimmune diseases, type 2 diabetes and obesity. But it can occur on its own and may be genetic.
Plaque psoriasis is caused by an overactive immune response leading to inflammation and overactive cell growth. Normal skin takes about a month to regenerate new skin cells and shed old skin, but with plaque psoriasis, new skin can be created and pushed to the surface in as little as four days. Your body can't shed skin that fast and ends up with patches of old skin piled up on new skin. These thick, inflamed, red, itchy, flaky, and sometimes painful patches of skin growth are called plaques. Plaques most commonly occur on your scalp, elbows and knees, but can also be found on your torso, palms, and bottoms of your feet.
Plaque psoriasis is a chronic condition that can affect you for just a couple of years or for your entire life. It may present on a consistent basis or it can come and go as flare-ups. Plaque psoriasis doesn't go away on its own; it requires medical treatment. The longer you leave symptoms untreated, the more difficult it'll be to get your plaque psoriasis under control. If you think you may have plaque psoriasis, schedule an appointment with your dermatologist in Manhattan as soon as you can.
Plaque psoriasis should always be evaluated with a thorough consultation and examination by a physician for an accurate diagnosis and treatment plan as it may be a symptom or sign of a serious illness or condition.
Read more https://www.manhattandermatologistsnyc.com/treatment/plaque-psoriasis/

Call Manhattan Dermatology Specialists today to make an appointment for you or a family member at (212) 378-9984 or learn about our other services.

Manhattan Dermatology Specialists
55 W 17th St Ste 103,
New York, NY 10011
(212) 378-9984
Web Address www.manhattandermatologistsnyc.com
Nearby Locations:
Union Square
Gramercy Park | Rose Hill | Kips Bay | Nomad | Murray Hill | Koreatown
10010 | 10016 | 10453 | 10017