Does ADA Compliance Apply To Websites?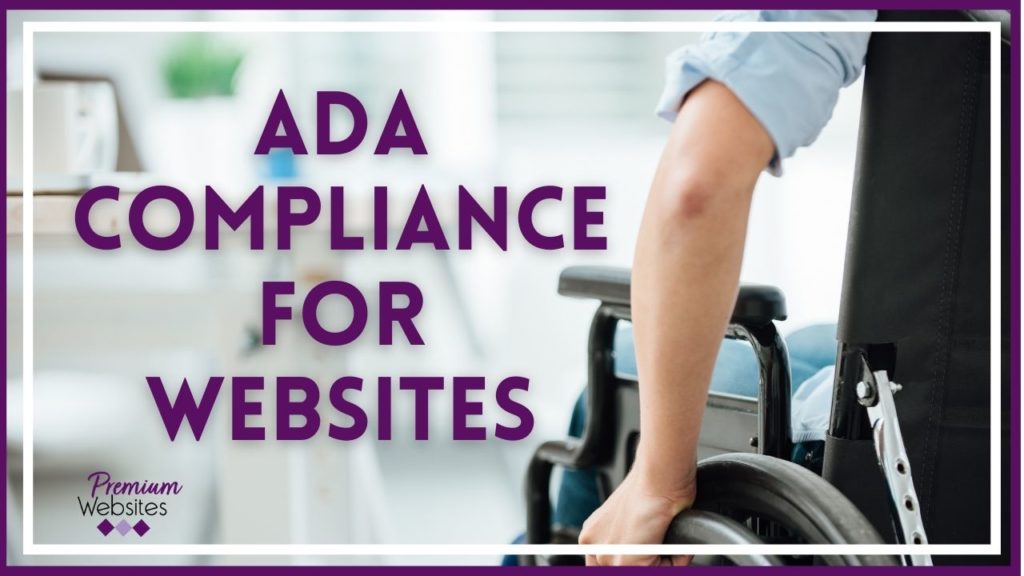 What is ADA Compliance?
Most business owners know that ADA (Americans with Disabilities Act) applies to brick and mortar businesses. Many of the standards set out in the 1990 Act are expected today. Things like doors that open with a push-button, tables that have areas for wheelchairs, bathrooms with a wheelchair-specific stall, handicapped parking, wheelchair ramps, and more.
These guidelines help business owners create an atmosphere that is accessible for everyone.
When the ADA became law in 1990, the Online world was in its infancy. It has grown to become a significant part of most businesses. Often we do not think about how challenging it is for a blind person to navigate a website. This is just one example. There are no actual guidelines for websites.
Currently, a website as a public area for a business is being challenged. If the Supreme Court deems that websites are public areas, then all the rules and guidelines set by the ADA will apply.
Is your website ready?
Are you at risk of getting sued?
Over the past few years, the number of lawsuits over noncompliant websites has kept growing. Business owners do not think about making their websites easy to use for EVERYONE.
If you want to read about some of the companies that have already been sued, and have lost, check out this article.
Where does this leave websites?
As you might have guessed, there are no clear ADA regulations for websites. Some courts deem websites as public areas for businesses, and others have not made that ruling. Once the Supreme Court makes an official ruling, things will be more precise. It is safest to take the stance that your website is a public area for your business.
Why would you want to exclude anyone from using your services or buying your products if you think about it? Being an early adopter and putting some effort into making your website ADA compliant will make your business stand out.
What makes a website ADA Compliant?
I hear that there will be new guidelines coming in 2022. Until then we have to go by the current guidelines set forth in Website Content Accessibility Guidelines (WCAG).
WCAG 2.1 was published on 5 June 2018. WCAG 2.2 is scheduled to be published by June 2022.
Here is an overview of WCAG 2.1:
Perceivable
Operable
Understandable
Robust
Is ADA Compliance Hard?
At Premium Websites, many of these items are done for you when you have us create your website. All images will have Alt Text, which screen readers need to "read" an image.
We take into consideration the contrast between text and background images or colors. Low contrast will not be used. This means no light grey text on a white background. We also create websites using larger text. This helps to eliminate eye strain when reading your website.
Videos found on our website all have captions. Many people will be on your website in areas where listening to a video is not practical. Adding captions is a must for all videos.
We create easy-to-navigate websites. Navigation with a single dropdown is accessible. Nested dropdown menus are very hard to use for most people. They become impossible for some disabled people. Another method for navigating websites is to create large, clickable images or buttons to get to the main areas.
We also like to provide a suite of tools that control how a website looks to your users. They can increase or decrease contrast and font sizes. They can swap out fonts for fundamental ones like Arial, making the website easy to read. They can highlight all the links on a page. They can even highlight blocks of text and have it read to them by the computer.
This suite of tools can be added to any website we create and is reasonably priced. Go to this page to get more information on our ADA Compliant Suite of Tools.